By Chris Stonor
The website, flyingmag.com, has excelled itself in recent weeks with original content. UAMN covered one of its well-received features entitled "How Will Self-Flying Aircraft Make Ethical Choices", three weeks ago, and last week an excellent interview by staff reporter, Thom Patterson, was published with Joby Aviation Executive, Bonny Simi, who is now an important media face of the company.
Flyingmag.com feature: "How will self-flying aircraft make ethical choices?" Watch Video
As part of the site's Women's History Month series during March, Simi comes over as a multi-talented high achiever, for as the interview points out. "At first, the career path of Joby Aviation executive Bonny Simi may be hard to wrap your head around."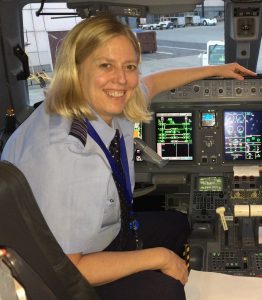 Simi on the flight deck during her time at JetBlue
From "humble beginnings", Simi's past includes being an airline pilot, Olympic athlete, TV reporter, venture capitalist and now a Joby Executive, "during an era when opportunities for women were more limited than they are today". After mastering these quite different paths, she also found time to raise a family .
Titled: How One Woman Excelled in Athletics, Journalism, Venture Capital – and Aviation, the feature reminds us that only about 5 percent of airline pilots in the U.S today are women. Simi regularly enthuses how easy it is to fly the Joby S4 via the company's simulator. She first developed her taste for flying as a student pilot in college. Simi then earned a private and commercial pilot certificates as well as her CFI certification. Later, after becoming "a top reporter at a major market TV station, Simi realised her career was off course. In her heart, she knew she belonged on a flight deck. So, she started building hours and eventually flew for an airline."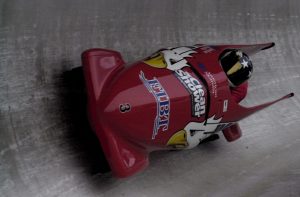 Simi was an alternate on the 2002 Olympic women's bobsled team
This interview is well worth a read and offers a good example of the high-quality management team at Joby Aviation.
Read Interview:
https://www.flyingmag.com/how-one-woman-excelled-in-athletics-journalism-venture-capital-and-aviation/
For more information
(News Source: https://www.flyingmag.com/
(Pics: Bonny Simi)