By Chris Stonor
Website, IEEE Spectrum, has been attracting praise and social media accolades over a feature it published this week entitled 'Following the money in the air-taxi craze (are eVTOLS the mother of all aerospace bubbles?)'
Written by tech journalists, Glenn Zorpette and Evan Ackerman, it poses the question on the minds of many eVTOL investors and those thinking about putting their hard-earned cash into the stock market: Are we on the verge of a stunning revolution in urban transportation, or are we witnessing, the "mother of all aerospace bubbles"?
Glenn Zorpette                                                        Evan Ackerman
It is a well-researched and balanced article covering the usual suspects from Joby Aviation and EHang to Wisk Aero and Kittyhawk. The more common concerns are discussed including a quote from Laurie Garrow of Georgia Tech, "We're going to have to get the consumer used to thinking about flying in a small aircraft without a pilot on board. I have reservations about the general public's willingness to accept that vision."
The feature then goes on, "Even by the standards of big-money tech investment, the vision is giddily audacious. During rush hour, the skies over a large city, such as Dubai or Madrid or Los Angeles, would swarm with hundreds, and eventually thousands, of eVTOL "air taxis." Each would seat between one and perhaps half a dozen passengers, and would, eventually, be autonomous. Hailing a ride would be no more complicated than scheduling a trip on a ride-sharing app."
When Jules Verne first began writing his futuristic novels in the 1860s, later to be coined science fiction, he was considered by some to be mad. Yet, the above paragraph sounds like a scene from the film Blade Runner  which, like Verne earlier, has already cemented the acceptance of such a future into the public's consciousness.
There are the usual worries too over certification followed by an interesting point about vertiports being "one of the greatest constraints on scalability of UAM" due to the large areas required in already over-congested city centres, to allow dozens of flying taxis to land and take-off during a rush hour period. Using redundant heliports, for example, are way too small.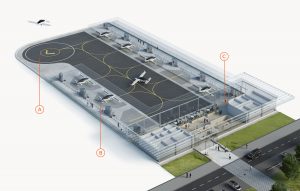 Can Vertiports become large enough for UAM scalability?
Yet, the tone of the piece is upbeat and positive which towards the end suggests that many "are cautiously optimistic that air mobility will eventually become part of the urban fabric in many cities."
Well worth a read.
Read feature:
https://spectrum.ieee.org/evtol-aircraft
(Top pic: Blade Runner – RIP Douglas Trumbull, special effects genius behind the film and many other science fiction movies)