By Chris Stonor
In a very fast moving eVTOL and VTOL industry has anything changed since the Advanced Air Mobility Reality Index was first published back in February, a mere two months past… surely not?
Let us take a look.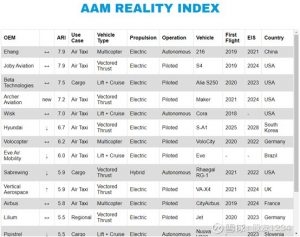 EHang lies presidential at the Top of the Pops No.1, but a recent damning report from a U.S analyst caused a sudden collapse of its share price followed by an impending shareholder lawsuit. Should it still be at No.1 after such a calamity?
Joby Aviation looks far more reliable with a SPAC Stock Market flotation in the offing, so perhaps, this company should now reside in first place? And what of the 4thand 5thpositions coveted by Archer and Wisk. What a year these two are facing as Wisk "lawyers up" and imposes a major lawsuit on Archer, stating its technology has been stolen by the California-based company. Should such alleged skullduggery allow Archer to remain in fourth? Meanwhile, Volocopter seems a  better bet as does Beta Technologies to join Joby in the top three spots.
Previous UAMN article on the AAM Reality Index:
https://www.urbanairmobilitynews.com/research/read-report-review-index-rating-for-aam/
Meanwhile, Lilium could be "the best mover and shaker" where plenty of exciting new developments are occurring from a new seven-seater Jet in the pipeline to assorted vertiport constructions soon to begin as well as a SPAC Stock Market flotation to join Joby. Should the German company not be at least 4th now in the chart?
Whatever does happen the AAM Reality Index top six places may look quite different come February 2022.