By Chris Stonor
Today is the day that Joby Aviation has been aiming for since the company's inception in 2009. The day the company floats on the Stock Market and becomes a serious and respectable business. No-more hopes or aims, no-more dreams, pretty graphics and CGIs. Joby has made it to the top table and become one of the BIG boys.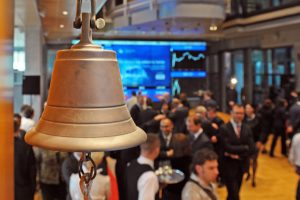 The company's Wikipedia says Joby was one of "several projects incubated by JoeBen Bevirt on his ranch in the Santa Cruz mountains, using the proceeds from successful exits of previous companies."
According to its website, "The early years were spent exploring different components of electric aviation, including electric motors, flight software, and lithium-ion batteries.This research led Joby to participate in the NASA LEAPTech and X-57 Maxwell projects, before developing its own air taxi concept."
Joby's early concept, known as the S2, had eight tilting propellers arrayed along the leading edge of its wing and four more tilting propellers mounted on its V-shaped tail.Later, the company moved to a configuration that featured six rotating propellers.
"By 2015", says Wiki, "The company was operating subscale prototypes of its eVTOL aircraft, moving to full-scale unmanned prototypes in 2017, and two years later, a production prototype. In 2018, the company announced a Series B funding round of USD100 million, led by Toyota AI Ventures."
A year later, the company was in active conversations with the FAA about certifying the aircraft and then announced a partnership with Uber's Elevate division. In fact, the last few years has seen a rapid acceleration of Joby's progress leading to Wednesday, August 11th, when the SPAC merger company, Reinvent Technology Partners ticker symbol RTP, changes to JOBY.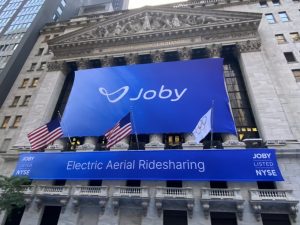 The company's marketing in recent weeks has been swift, sizzling and spectacular leading to the finale today of an actual Joby Aircraft proudly strutting outside the New York Exchange main entrance between 8.30am and 11.30am (U.S time) or 1.30pm and 4.30pm (UK time).
Watch Brief Video:
https://twitter.com/jobyaviation/status/1424362257446694918
The company even posted another video of the craft being transported to the Big Apple.
https://twitter.com/jobyaviation/status/1424362257446694918
Yet, the question on everyone's lips… is Joby Aviation a good investment for the future? Having done some research on the topic, I came across this financial website which offers the most sage and sensible advice, so far discovered.
https://seekingalpha.com/article/4447089-joby-aviation-expect-turbulence
Under the headline, "Joby Aviation: Expect Turbulence", the website believes there may be much frothing and jiving, volatility and vivaciousness during the first few weeks of trading, but offers three reasons not to get sucked in to all of this potential maelstrom.
: The share price is already overvalued.
: There is less appetite for risk from investors.
: A potential of future share dilution.
The journalist, Riyado Sofian, suggests not to begin building a long term position in Joby until the share declines below USD10, as he expects the price to fall in the near future to around USD8.

Riyado Sofian
Part of his crystal ball gazing is based on what happened to Hippo Insurance (HIPO), an insurtech company that recently completed its merger with another Reinvent Technology Partners SPAC (RTPZ), which performed a similar ticker change on August 3rd. The first two trading days seemed normal, with some typical price volatility. However, the next two led to one of, if not, the most bloody trading days for a de-SPACed company.
Hippo's stock dropped by 17 percent on August 5th and another 8 percent on August 6th, closing the week at USD7.36. This, Sofian claims, was part due to 19.2 million out of 23 million shares of RTPZ's Class A common stock being redeemed by shareholders.
Some might say that insurance doesn't quite have the same pizzazz as an eVTOL Aircraft company, but let us not forget, it will be three years before Joby actually goes into service, so three years for the stock to potentially bump and bumble along a trading range low with the odd rise here and there (take EHang's recent trading as an example).
Sofian continues, "The reason why Hippo's price action is relevant to Joby's is that Joby has the same SPAC sponsor as Hippo, and both companies were valued similarly and richly when their SPAC mergers were announced. Just to recall, at USD10 per share, Joby and Hippo were valued at USD4.6 billion and USD5.1 billion, respectively." And adds, "Considering valuation similarities and Hippo's recent selloff, short-term price weakness for Joby after its ticker change is likely."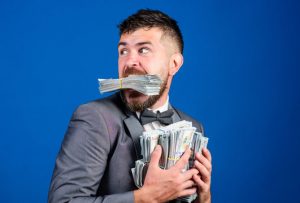 Perhaps, patience is key to the Joby stock? If building a long-term position, wait for future share price declines and weakness, where a value below USD10 is a sensible place to buy.
If not, enjoy the dance, frivolity and excitement and buy shares first thing Wednesday morning (U.S time) and hope for a quick 10 percent return before then selling.
Horses for courses and all that.
PS: The RTP share price closed on Tuesday at USD10.03.