By Chris Stonor
An excellent and extensive market study, FREE to download, was published on Wednesday (February 16th) – a collaboration between Rolls-Royce and international management consultancy company, Roland Berger – showing the huge potential of the Asia-Pacific region for Advanced Air Mobility (AAM).
Rolls-Royce is pioneering zero emissions aviation and together with Roland Berger, has released a study into the area's potential. The report looks at the benefits of passenger all-electric eVTOL aircraft, known as 'air taxis', that can be used for Urban and Regional Air Mobility. This includes city taxi or airport shuttle routes and intercity flights of up to 250 km.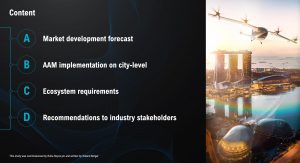 The study also highlights the importance of government, industry and regulators working together to develop the regulation, infrastructure and societal change needed to deliver the many economic and environmental benefits that AAM offers. This is a new emerging market that could deliver USD36.9 billion of service revenue alone across the Asia-Pacific (APAC) region by 2050.
The urban geographies of the cities of Singapore, Tokyo and Seoul mean the APAC region could lead the way in AAM by offering time-saving and more convenient travel that could bring downtown, suburbs and tourist attractions closer together. The study estimates that 16,400 passenger VTOL aircraft could be in operation in Japan, worth around USD14.3 billion service revenue, by 2050, with South Korea offering the commercial potential of USD3.8 billion and Singapore USD350 million, all in under three decades.
To read the introductory report:
https://www.rolls-royce.com/media/press-releases/2022/16-02-2022-rr-and-roland-berger-forecast-advanced-air-mobility-market-opportunity.aspx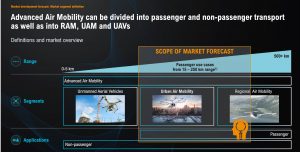 You can download the full FREE 19-page study report via a PDF from the same page.
https://www.rolls-royce.com/~/media/Files/R/Rolls-Royce/documents/news/press-releases/rre-apac-aam-study-16-02-2022.pdf
For more information
https://www.rolls-royce.com/media/our-stories/discover/2020/powering-urban-air-mobility.aspx