By Chris Stonor
It is exciting to know that a widely read and respected media outlet like bloomberg.com writes that while conventional aircraft sales "were modest" at last week's Singapore Airshow, eVTOLs "took centre stage" with deals "close to 200 aircraft signed." Exciting because this is not only confirmation that the leading mainstream media has given the emerging new industry a sign of approval, but that its future is almost certainly assured.
In the article, published late last week, while Bloomberg strongly pushes "the green decarbonisation angle", it cites the evidence of "up to 200 aircraft signed". This includes AirAsia reaching a non-binding deal with aircraft-leasing firm Avolon, to rent at least 100 of Vertical Aerospace flying taxis. This after Avolon had already ordered 500 of the UK-based start-up VX4 aircraft on condition, of course, of successful certification.
AirAsia Aviation Group "to lease 100 plus Vertical Aerospace VX4 eVTOLs from Avalon"
Separately, Eve Urban Air Mobility and Microflite, an Australian helicopter operator, announced an order of up to 40 eVTOLs to support the start of operations in Australia during 2026 as well as another deal with Aviair and HeliSpirit, which serve some of Western Australia's most popular tourist attractions, for as many as 50 eVTOLs.
Bloomberg quotes Domhnal Slattery, CEO of Avolon: "Decarbonisation is the world's single biggest challenge we face as a generation, and the decarbonisation of aviation is the single biggest opportunity us in the aviation industry have. The electrification of aircraft is a first and important step in that journey."
The article then mentions major aeronautical companies like American Airlines, Virgin Atlantic and Japan Airlines who have ordered between them, hundreds of eVTOLs, as they seek to reduce their craft's carbon footprint.
Slattery is quoted again, "As we talk to our children that are coming up, they don't want to fly in machines that emit any kind of emissions. It's going to take us decades to solve that problem, but this is a first step in the right direction."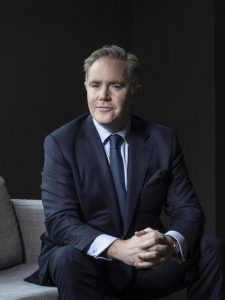 Domhnal Slattery
Bloomberg points to the Roland Berger/Rolls-Royce study just released that states, by 2050 up to 82,500 passenger eVTOLs will be in operation, where the Asia Pacific region is to account for 51 percent of the global market. The aircraft could be used as airport shuttles, for tourist flights or intercity travel, flying as far as 155 miles. Bloomberg then says, "Demand for eVTOLs is exceptionally high", pointing to Avolon's other signed commitments for as many as 350 eVTOLs including with Brazil's largest airline, Gol Linhas Aereas Inteligentes.
The media outlet next points to the obvious obstacles including certification and the limited battery flight range before moving on to Embraer's Eve who also sees huge potential for eVTOLs to circumvent traffic jams on busy streets in Asia-Pacific countries. It estimates some 25,000 eVTOLs in the region by 2035, accounting for about half of global demand. The company expects to start services in 2026 after obtaining approvals from relevant authorities.
The media outlet ends its article with a direct quote from Eve's CEO, Andre Stein, "Embraer has certified over 30 different aircraft models in the last 25 years. We're leveraging that same type of experience and engaging with customers to create a product that has a differentiation."
So, no problem then.
(News Source: https://www.bloomberg.com/europe)