By Chris Stonor
SkyDrive, a UAM company using flying cars and cargo drones, announced this week it has signed a partnership agreement with Osaka Prefecture and Osaka City to develop flying cars, reports asdnews.com.
The site writes, "Through the development and practical application of flying cars, (the partnership) aim is to jointly promote the development of science and technology, the strengthening of disaster management and response capabilities, the creation of innovation, the revitalisation of the region, and the generation of momentum toward World Expo 2025 Osaka Kansai Japan2."
Trials are to be conducted in Osaka Prefecture where results including insights and related information obtained in the demonstrations, will be shared at the Osaka Roundtable for Social Implementation of the Air Mobility Revolution3. This also covers establishing an environment to improve social acceptance of flying cars by publishing information locally and beyond Osaka, holding various events such as seminars, workshops, presentations, and awareness-raising lectures for students and generally promoting the business of flying cars.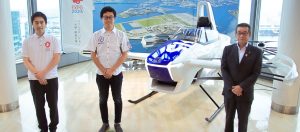 Hirofumi Yoshimura (left), governor of Japan's Osaka Prefecture, and Osaka city mayor Ichiro Matsui (right) this week signed a new partnership agreement with SkyDrive CEO Tomohiro Fukuzawa (centre).
Other ideas include:-
: Working with SMBs and startups operating in Osaka Prefecture and providing them with opportunities for open innovation.
: Provide matching opportunities by hosting business talks, exchange meetings, pitch events, and the like.
: Providing occasions and opportunities for sharing information, experiences, and networks.
: Seek to encourage businesses, startups, universities, and specialised institutions in and outside Osaka Prefecture to form communities, provide them with occasions, and create opportunities for exchanges.
: Vitalising startup ecosystems toward Expo 2025 Osaka, Kansai, Japan.
Tomohiro Fukuzawa, CEO of SkyDrive, commented, "Osaka is the ideal place to launch air mobility in Japan because of its record of innovation, the scheduled World Exposition and its topography, with the metropolitan area built around and connected by rivers, the bay and the sea."
He continued, "Flying cars will make it possible to use the skies for daily transportation, providing convenience and enjoyment, and we will also promote how this new technology will strengthen disaster management and response capabilities, foster innovation, and revitalize local communities."
Hirofumi Yoshimura, Governor of Osaka Prefecture, added, "Signing a partnership agreement with such a promising developer as SkyDrive brings us one step closer to target World Expo 2025 Osaka Kansai. We are determined to create the Osaka of the future, where flying cars will soon be traversing the skies, providing residents and visitors with enhanced convenience and vital services."
Footnote
The Osaka Prefectural Government established the Roundtable in November 2020 in order to accelerate the introduction of flying cars in the Osaka Bay area.
SkyDrive aims to create an air taxi service in the Osaka Bay area for use during Expo 2025 Osaka Kansai. As one Roundtable initiative, SkyDrive will conduct a "Feasibility Study of an Air Taxi Service Using Flying Cars" this autumn jointly with Obayashi Corporation, Kansai Electric Power Company Inc., Kintetsu Group Holdings Co., Ltd., and Tokio Marine and Nichido Fire Insurance Co., Ltd.
This study is expected to clarify the levels of recognition and social acceptance of flying cars as well as verify the feasibility of air taxi services as an ongoing business in future years.
For more information
https://en.wikipedia.org/wiki/Osaka
(News Source: www.asdnews.com)