By Chris Stonor
The much-awaited SMG Consulting Christmas "AAM Reality Index Chart" was released this week and it packs a few surprises.
The company began releasing a regular chart back in February which portrays how the various eVTOL companies are developing. It is explained in previous UAMN articles (see below for links). The updated information has been gathered since October.
Previous UAMN Articles:
https://www.urbanairmobilitynews.com/air-taxis/read-report-review-index-rating-for-aam/
https://www.urbanairmobilitynews.com/air-taxis/latest-july-chart-aam-reality-index-for-vtols/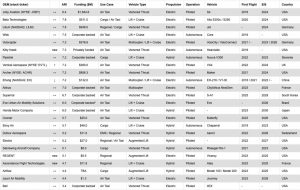 The Latest Chart (click on pic to enlarge)
This year has been another important step forward for the eVTOL industry as a whole. Joby, Lilium, Archer and most recently Vertical Aerospace have all floated on the U.S Stock Market. A primary focus is now on France and the Paris Olympic Games in 2024 where the industry has a huge opportunity to show the world what it can offer. New companies have emerged this year as contenders for the biggest financial prize awaiting since the advent of the computer and internet age.
Joby now heads the chart with an ARI score of 8.4, followed by Beta Technologies and Lilium on 7.8. A surprise faller is EHang at 10th position after being in the top 3 during the earlier part of the year. Archer has also experienced a similar, but less downward fate.
Meanwhile, Lilium has faired well in recent months rising from 12th in February to 3rd this month. Of course, the chart should be taken with a pinch of salt as potential non-confirmed sales are not taken into account. It is interesting to note that of the 24 companies highlighted, 13 are U.S based. This country dominates the industry.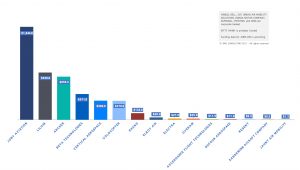 (Click on Pic to Enlarge)
Three new companies have been added to the December index: Ascendance Flight Technologies, Kitty Hawk and REGENT. Two ratings have been updated: Vertical Aerospace (7.2 from 6.2) due to this week's stock market float (funding). While EHang continues to wane (7.2 from 7.4 due to perceived "technology readiness" (whatever that actually means!) From 16 companies in the February chart, 10 months on this figure has reached 24.
To repeat, this chart must be taken with a pinch of salt. In three years time, we will have a much clearer picture of who the winners and losers will be.
For more information