By Chris Stonor
SMG Consulting known for its recent initiative "AAM Reality Index", a form of a Top of the Pops chart showing the risers and fallers in development and growth of the leading eVTOL players, admitted on Linkedin this week, it can't keep up with the rapid expansion of this industry.
The company writes, "It is just over a day since we published our new AAM orders infographic and it already needs to be updated to include Electra.aero purchase agreement with Bristow Group for an estimated 50 aircraft."
Founded in 2012 by former Honeywell and Danaher executive Sergio Cecutta, SMG Consulting focuses on the founder's network of contacts in the Aerospace, Defence and Clean Tech industries, where it has rapidly expanded into the eVTOL and AAM industry.
It's latest infograph is fascinating to view (click on it to enlarge), as it reminds one that the present star of the industry, Joby Aviation, has not made any aircraft sales, yet, compared to its various competitors.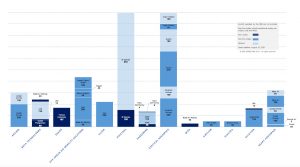 UAMN Previous Articles:
https://www.urbanairmobilitynews.com/research/read-report-review-index-rating-for-aam/
https://www.urbanairmobilitynews.com/air-taxis/return-of-the-aam-reality-index-what-has-changed/
For more information