By Chris Stonor
The latest SMG Consulting "AAM Reality Index" (ARI) February Chart (its first anniversary) is now released and it is of no surprise to see Joby Aviation maintaining poll position. The company cannot do no wrong, at present, whether it is breaking eVTOL records (speed, distance and height) or becoming (potentially) the first flying taxi to fly over a U.S city. Founder and CEO, JoeBen Bevirt, must be pinching himself with the company's increasing success.
Yet bizarrely, Joby has not achieved any actual sales of its craft either definite or otherwise. Even so, Paul Sciarra, Joby Executive Chairman, mentioned last year during an interview that two craft are already into "revenue generating flights" for the Dept. of Defence with up to a further eight craft starting in 2022.
Compare this to Eve UAM unconfirmed or otherwise (1,250 sales), Vertical Aerospace (1,240) or Heart Aerospace (522), for example.
The chart is even more strange when EHang has 155 confirmed orders and Pipistrel 150. Two of the very few eVTOL companies to have achieved this accolade to date. Yet, EHang lies in 7th position and Pipistrel 10th. And more odd, Eve UAM is in 14th, Vertical Aerospace 11th, while Heart Aerospace is not even included on the chart.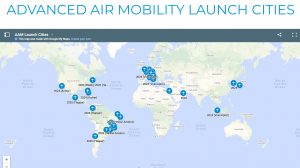 Where is China's Coverage?
SMG explain this anomaly: "The index (ARI) is based on five elements: the funding received by the company, the team that leads the company, the technology readiness of their vehicles, the certification progress of their vehicles, and the production readiness towards full scale manufacturing." So, present sales are not relevant, confirmed or otherwise.
Even more telling is SMGs "AAM launch cities" map which shows just how pivotal the year 2024 will be for the UAM industry. Q: How come there is no coverage of China?
For more information