By Chris Stonor
(article translated into English)
Social media was "all aflutter" over the weekend as news of EHang's successful and much pre-publicised trial flight in Bali, Indonesia took place, reports cnnindonesia-com. The event occurred in the airspace over Klungkung Regency.
Rudy Salim, President of Prestige Image Motocars, enthused at a press conference, "We hope the EHang 216 can be implemented in digital-based smart cities and become an efficient air mobility solution at an affordable price."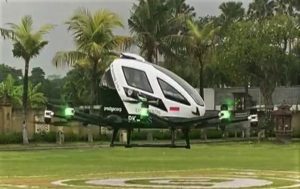 Salim went on to say the AAV can be flown to remote areas, therefore, increasing productivity and supporting healthcare around Indonesia. "This craft will later be able to fly passengers above urban areas," he added. "While autonomously controlled by operators on the ground."
Salim explained to the media throng and dignitaries that the 216 AAV can fly for 30 km on one electric charge, has a maximum speed of 130 km per hour and is able to lift a maximum load of 220 kg. The craft is 5.6 metres wide and 1.7 high. Currently, it is waiting for regulatory approval to officially fly commercially in Indonesia.
He said the EHang 216 had a high level of safety with 16 propellers and been flown successfully over more than 40 cities in eight countries.
Salim then pointed out the EHang's safety record. "If there is an emergency, the first thing is the alert system, so it won't fly. If an accident happens in the air, even if the rotars don't work, up to three can still fly the craft."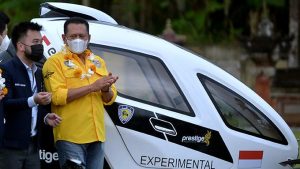 Bambang Soesatyo, Chairman of the Indonesian Motor Association, added, "EHang 216 will become a modern mode of transportation that will help the people of Indonesia. This will become a lifestyle for young people in the future."
EHang, a few days later, tweeted out a video of the trial flight along with its own press release.
#EHang 216 completed its debut flight demonstration for aerial sightseeing in the world-famous tourism hotspot of Bali, Indonesia.
Learn more:https://t.co/ZKVkcQZXzI pic.twitter.com/94wNDBbwzM

— EHang (@ehang) November 29, 2021
For more information
(News Source: https://www-cnnindonesia-com./)