By Chris Stonor
Volocopter has completed its first public manned trial flight with its 2X aircraft in Seoul, South Korea, reports a press release. It was the first-ever crewed public demonstration of an eVTOL in South Korea.
The Republic's Minister for Land, Infrastructure, and Transport (MoLIT) Noh Hyeong Ouk, together with senior officials from the Delegation of the European Union to the Republic of Korea and German Embassy,  witnessed this historical flight.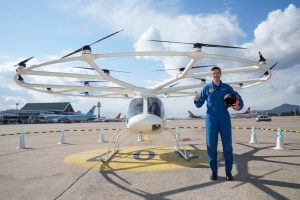 The 5-minute crewed trial took place at Gimpo International Airport and covered a distance of approximately 3 kms, reaching a maximum altitude of 50 metres and maximum speeds of 45 km/h. The test flight was part of the MoLIT's UAM demonstration event – Open the Urban Sky.
Florian Reuter, CEO of Volocopter, commented,  "With MOLIT's comprehensive K-UAM roadmap, South Korea is well positioned to achieve the goal of commercialising UAM by 2025. As the pioneers of the UAM industry, we look forward to working closely with friends and partners from both the government agencies and private sectors to make UAM a reality in South Korea."
Maria Castillo Fernandez, EU Ambassador to South Korea, remarked,  "2021 is a milestone year for the EU-South Korea relations, as it marks the tenth anniversary of the free trade agreement between the two entities."
And Michael Reiffenstuel , German Ambassador to South Korea, added, "South Korea and Germany have enjoyed a close relationship for more than a century. We strongly welcome deepened cooperation in new sectors such as digitalisation, e-commerce and urban air mobility."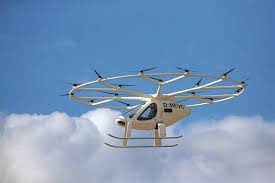 Seoul is the second city in Asia that Volocopter has conducted a test flight following the first successful public flight trial over Singapore's Marina Bay area in 2019.
Volocopter is scheduled to conduct a public test flight at Incheon airport on November 16th to be attended by the President of Incheon International Airport Corporation and Mayor of Incheon Metropolitan City during K-UAM Confex 2021.
For more information