By Chris Stonor
Start-ups exhibiting a trade stand at a major fair or exhibition can really assist the marketing and for one Spanish UAM company, attending Madrid's Expodronica Fair in late October, has since increased its media coverage.
While EHang gained the headlines at the fair, displaying a 216 AAV with the Spanish Policia Nacional decals on its side, Umiles, led by CEO Carlos Poveda, was quietly attracting a crowd. The company's ambition is noteworthy, but its concept curious. For Umiles aim is to launch Spain's first all-electric air taxi connecting Barcelona, Valencia and the Balearic Islands, yet its craft looks more like a single passenger pod from Star Wars with a comic Jetsons-style look, reports euroweeklynews.com.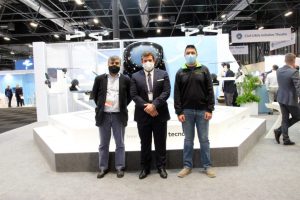 Carlos Poveda (Centre)
Previous UAMN Article:
https://www.urbanairmobilitynews.com/air-taxis/watch-video-ehang-mesmerises-the-king-of-spain/
Yet, more curious is that Poveda admits his company's taxi is still a prototype and cannot fly even though the company's website offers a Vimeo film of "the pod" briefly aerial above a trial area. Perhaps, this flight has just occurred?
Poveda explains his flying taxi called Integrity, "will eventually have a capacity to transport five passengers and be capable of handling routes of up to 300km." Therefore, the craft exhibited at the recent fair is a smaller prototype version.
Integrity is comprised of four separate sections of four rotors each, acting independently. In this way, it can achieve "high stability, which translates into safety, both for the passenger, and for the air environment itself where we move," assures the CEO.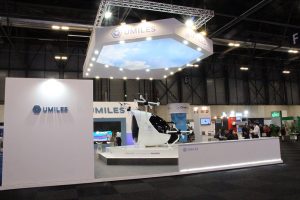 Poveda then confirms its first test model is designed to transport only one or two people. By the time of the next Expodronica Fair in June 2022, he claims the Integrity will have "the capability of carrying five passengers, plus a pilot. Umiles ambition is to carry out tourist flights between 2026 and 2030, a market which EHang is already "sowing up".
The problem with eVTOL concepts is, they are fun for the media to cover, titillating for the public to read, but 98 percent never take off.
For more information
(News Source: https://www.euroweeklynews.com/)