By Chris Stonor
There is some heartening news for Lilium investors after the German company tweeted yesterday, "With the flight permit (Operational Authorisation) in Spain secured, the flight test team are making final preparations for first flight at the ATLAS flight centre. Watch this space…#Lilium #eVTOL #TestFlight"
Based in Villacarrillo (Jaén), Spain, Lilium arrived at the centre back in late January after hiring Chief Test Pilot, Andrew Strachan. The plan has been to continue its flight test campaign, from hover up to high speed, at the state-of-the-art facilities, deploying its 5th generation technology PHX2 demonstrator, thereby expanding the testing capabilities beyond Germany.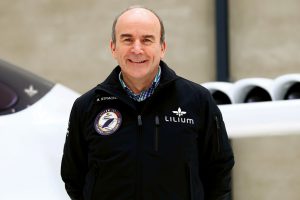 Andrew Strachan
Strachan brings with him over 30 years' experience as an aircraft test pilot. Prior to joining Lilium, Strachan served in the Royal Air Force (RAF) and then had a successful career as a test pilot and later Chief Test Pilot at Leonardo Helicopters. He brings a vast amount of experience, having flown multiple types of aircraft throughout the full range of test flying activities.
The Atlas Centre was chosen as it provides optimal infrastructure and enables the aircraft to fly over a large, unpopulated area while transitioning fully into high-speed wing-borne flight.
Strachan said back in late January, "As someone who has been influenced by aviation since childhood, it's inspiring to be part of a company driving the next phase of sustainable, aeronautical technology."
For more information
http://atlascenter.aero/en/fundacion-andaluza-para-el-desarrollo-aeroespacial_aa21.html