By Chris Stonor
This week UAMN is keeping an eye on events in Singapore and the Air Show, the largest event of its kind in Asia. Volocopter and Skyports have been highlighted in recent days, and today it is the turn of the France-based Thales Group.
Ainonline.com reports, "With an urban population set to double by 2050 in a part of the world already dotted with enormous metropolitan complexes, according to the Thales Group, the Asia-Pacific region ranks among the most promising for the development of urban air mobility (UAM) markets and associated control systems."
This is certainly true for Volocopter who announced this week that the company aims to generate SGD4.18 billion in cumulative economic benefits to Singapore – alone – by 2030.
Singapore Roadmap: Volocopter aims to generate SGD4.18 billion for Singapore by 2030
Citing Thales's credentials as a company that has worked on UAM systems and unmanned traffic management (UTM) solutions for many years, Marc Duval-Destin, Company Vice-President of Strategy, Product Policy and innovation, reckons "the Asian market is… particularly suited to the eVTOL adventure."
The region's large cities with very congested roads alongside rural areas of poor ground-transportation infrastructure leading to "remote and inaccessible regional links" within and between many Asia-Pacific nations, is "manna from heaven" for the UAM industry.
Duval Destin continues, "Many eVTOL initiatives were born in China, Japan, Singapore, Korea and Australia. Today, these countries are particularly active in market development."
Singapore is a good example.  A nation in which Thales has been present since 1973, Singapore now hosts 2,100 Thales employees and four corporate facilities, as well as the first multi-disciplinary innovation centre outside Europe. More importantly, Thales's R&D activities include unmanned aerial system (UAS) and UTM system development.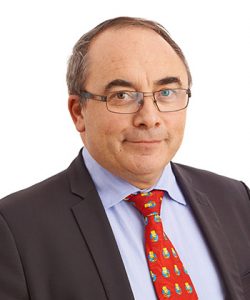 Marc Duval-Destin
Ainonline.com explains, "This work stems from Thales's long-running production of avionics and air traffic management (ATM) systems in Singapore, including its contracts to provide Changi Airport with Thales' LORADS III ATM solutions."
The article goes on, "Through a joint Aviation Innovation Research Lab, the company now partners with the Civil Authority of Singapore to develop an open ATM architecture and accelerate ATM digitisation."
Duval-Destin, commented, "Combining avionics, ATM, and digital identity expertise, we have engaged activities in Singapore to secure drone development through ScaleFlyt Remote ID. This drone and UAM virtual license plate, which weighs just 70 grams, uses 5G-to-LTE-M cellular networks to accurately track, identify and monitor the status of each air vehicle in flight." Adding, "It is an essential element to enable traffic management."
In Singapore, Thales also has collaborated with H3 Dynamics since 2018. Duval-Destin points out, "To bring safe and transparent drone automation as a next chapter in unmanned aerial operations and as a key enabling dimension in the future of urban air mobility." The work involved H3 Dynamics and Thales testing "a real-time autonomous drone flight-monitoring system in an urban environment in Singapore."
The trial combined H3 Dynamics' DBX autonomous drone charging box and a drone electronically registered and identified using Thales's Remote Identification tracker under the management and monitoring of the Thales UAS Airspace Management solution.
Duval-Destin continued, "[As a result], safe monitoring of urban and beyond visual line of sight (BVLOS) drone operations are now a real near-term possibility." Building on that work, Thales has created TopSky-UAS, an unmanned traffic management platform that facilitates interoperability with existing ATC systems.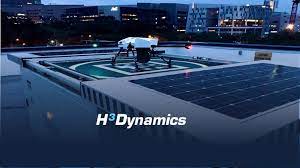 Duval-Destin remarked, "Collaborative by design, TopSky-UAS interconnects every part of current and future drone ecosystems, from air navigation service providers to city, regional, and national authorities."
Thales believes unmanned, autonomously piloted operations will prove integral to the future of the eVTOL UAM market, which by 2035 could reach 20,000 aircraft and more than double by 2040, reaching 45,000 vehicles, resulting in yearly revenues of USD16 billion.
As a result, one of Thales's core UAM-development activities involves "offering autonomy solutions as an asset for UAM operations." Its expertise in avionics and air traffic management makes helping its customers to define the right regulatory and standards environment, another Thales UAM-development priority.
Thales's UAM-development strategy concentrates on cooperation with other companies that can provide other enabling technologies to go with the traffic management, flight-control, power-generation, and power-conversion systems Thales' itself offers.
Duval-Destin said, "We have initiated cooperation with players across the globe. A number of them remain confidential but our partnerships range, for instance, from start-ups such as Flying Whales, developing a giant heavy-lift airship, to traditional aviation leaders as Airbus and Bell for their eVTOLs, and also with end-customers such as utilities suppliers like Terega for gas-pipeline inspection by drone." He added, "We also cooperate with leading system suppliers such as Diehl Aerospace."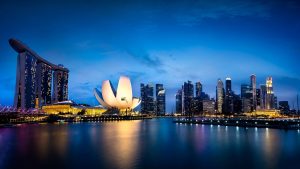 The Urban Beauty of Singapore
Thales and Diehl plan to propose dedicated flight control systems for the UAM market and Airbus has selected them jointly to supply the electrical flight controls for the future CityAirbus NextGen air taxi.
For more information
https://www.thalesgroup.com/en
(News Source: https://www.ainonline.com)