By Chris Stonor
"CES 2021 wouldn't be CES without some bonkers, far-out vehicle concepts, and thankfully, General Motors brought two," reports theverge.com.
These "two surprises" were an egg-shaped autonomous vehicle and a single-seater electric vertical take-off and landing (eVTOL) aircraft, introduced during the company's keynote address this week. Both vehicles are part of Cadillac's Halo Portfolio and there is a view that neither will be going into production anytime soon or if at all.
The website,verge, describes the eVTOL as "like a leather-and-fur-draped version of many of the autonomous people-mover shuttles that we've seen in college towns and corporate campuses around the globe." And goes on,  "It lacks traditional controls like a steering wheel and pedals, instead opting for an interior that looks more like a 1970s-era sunken living room."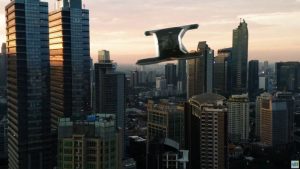 Michael Simcoe, GM's VP of Global Design, characterises it as "a social space for a group of friends or family to spend time together on their way to a destination."
The eVTOL features a vertical light signature, expansive glass roof, and biometric sensors to read passengers' vital signs and use that data to adjust settings like temperature, lighting, ambient noises, and even aromatics. Other options, like voice control and gesture recognition, depending on the technology, will ensure making those adjustments is mostly effortless.
The VTOL concept, says verge, "looks like a more futuristic version of some of the air taxi prototypes that are under development right now." Simcoe calls it GM's "first foray into aerial mobility" even though it is just a design exercise, and it's unclear whether GM actually intends to pursue a commercialised version.
Simcoe continued to explain that "the Cadillac eVTOL aircraft would use a 90kWh electric motor to power four rotors to enable vertical takeoff and landing." This is less battery capacity than other eVTOL startups, like Germany's Lilium, which uses 320kWh motors to power its five-person jet.
Watch video (from 13'-34')
https://www.thestreet.com/video/general-motors-electric-vehicles-flying-cars-brightdrop
For more information
(News Source: https://www.theverge.com)