By Chris Stonor
Last week, Archer Aviation announced on its website that the U.S. Attorney's Office has decided not to bring charges against the company's employee, engineer Dr. Jing Xue, whom Wisk Aero claimed had passed on air taxi secrets.
Wisk issued a statement in July, 2021.
: An engineer downloaded thousands of files shortly before leaving Wisk to join Archer. When cross-examined about the files (what files he took, what use he made of them, and whether he still has access to them), that engineer pleaded the Fifth Amendment due to a pending federal criminal investigation.
: Wisk confidential files/IP have been found in the possession of other Archer employees.
: Archer's SPAC sponsor, Atlas Crest, admitted in its July 1st amended S-4 that Archer and three of its employees received grand jury subpoenas from the United States Attorney's Office for the Northern District of California.
: Archer claims to have created the conceptual design for its aircraft, including all of the subsystems, in only seven weeks – that short period is unheard of, according to outside aviation experts.
: Expert testimony shows Wisk's trade secrets pervade Archer's aircraft development.
: Archer's aircraft design was called 'cora + tilt' – 'Cora' being a reference to Wisk's well publicised, fifth-generation aircraft.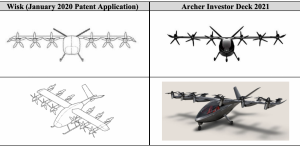 Alleged Patent Infringement
Wisk filed the initial suit against Archer in April 2021 which included claims for patent infringement as well as misappropriation of trade secrets that span a range from aircraft, component and system designs to manufacturing and test data.
While, this recent dropped charge is a major step forward for Archer, it is unclear whether other claims are still being investigated. Wisk Aero has not commented.
Archer's website statement continued, "Archer looks forward to continuing to defend itself and its employees against Wisk's baseless claims in the civil case and to holding Wisk and its related parties accountable for their behaviour in this matter."
For more information