By Chris Stonor
The American City of Orlando is increasing the region's investment for a future aerial mobility framework, reports bizjournals.com. The Orlando City Commission is offering close to USD1 million in tax rebates to Munich-based, German company, Lilium, over a nine year period, to help create short-term, around 100 high-paid new jobs for Orlando's Lake Nona development leading to over 140 within five years.
Lilium has stated that a USD25 million investment is earmarked towards the construction of a 56,000 sq ft air taxi landing and take-off facility (vertiport). This hub will become Lilium's HQ for aerial mobility operations within Florida and likely serve other cities and regions with smaller scale "sub-hub" vertiports or individual helipads. The aim is to create a 2,000 mile network around the State. The planned vertiport is Lilium's first in America. The city estimates the facility will generate an additional USD1.7 million in economic impact over a 10-year period.
The new jobs will pay an average annual salary of USD66,451 which, according to the U.S. Bureau of Labour Statistics, is USD20,000 higher than the metropolis average. Jim Gray, a city commissioner, said, "Companies that come to the city have options. With this one, we expect around 140 new high-waged jobs. That's what we need. We need better jobs."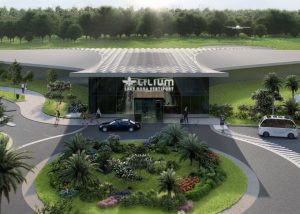 Projection of Lake Nona Vertiport
The site of the vertiport is just south of Orlando International Airport in Lake Nona, according to the economic development incentive agreement. This area, developed by Tavistock Development Co., is an emerging aviation hub. For example, aviation training firm, Simcom, is constructing a new 95,000 sq ft HQ and UK London-based BBA aviation firm has relocated its previous Orlando office to a 65,000 sq ft premises in Lake Nona town centre.
The city of Orlando is "bullish" on the employment of flying taxis, where vertical takeoff vehicles are emphasised in the city's tech Future Ready Master Plan, that will guide the rollout of new programs and policies to advance internet connectivity, autonomous vehicles and more.
While, this is Lilium's first U.S. presence, the company has been busy in Europe expanding its business. The company in September announced partnerships with two German airports that will serve as hubs for Lilium's transportation network. The startup last year opened its first manufacturing facility in Germany and since has raised more than USD240 million in venture capital and grown its workforce to more than 500 employees.
For visual presentation
https://www.youtube.com/watch?v=OzB2pfYp6tQ
For more information
(News Source: https://www.bizjournals.com)