By Chris Stonor
In late March, the Cradle of Aviation Museum in Garden City, New York is kicking off a new, multi-year initiative entitled The Future is Now: Air, Space and Science at the Cradle, reports longisland.com.
The Museum will feature a variety of new exhibits, events, education programs, and planetarium shows that focus on the future of aviation, the space program and the science behind them all.
One section to be unveiled is called Personal Flight that includes four eVTOLs. These are the Kitty Hawk Flyer, the Opener Blackfly, the Verticycle (an electric VTOL hoverbike) and a prototype of the Mk-5 electric jetpack which can carry its operator through the air like James Bond via several ducted fan motors.
The article says, "Personal Flight exhibit, centres on a symbol of the future for more than a century: the Personal Air Vehicle (PAV), which is envisioned to one day be a part of everyday life for families and commuters, offering both the ability to traverse roadways and – as seen in the Back to the Future movies – actually take to the air for point-to-point flight, and all without the need for a pilot's license!" Visitors will be able to bask in the wonderment of an extraordinary 360-degree display of several PAV's within the Gallery.
Josh Stoff, Museum Curator, commented, "Personal Air Vehicles are a new type of aircraft, neither airplane nor helicopter, carrying one or more people for recreational flight or air taxi services. The emergence of this alternative to traditional ground transportation has been enabled by the development of unmanned aerial vehicle technology (drones), combined with electric propulsion."He added, "Alongside this exhibit will be an interactive drone simulator Kiosk, where you'll learn how to fly a drone like a pro."
Other attractions include a scale model of the Hubble Space Telescope and the Mars Rover Exploration Vehicle that enables visitors to get behind the wheel of an actual Rover, while learning about the historic Mars 2020 mission with an interactive augmented reality (AR) experience.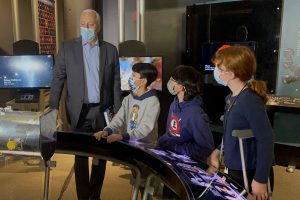 Footnote
The Cradle of Aviation Museum and Education Centre is home to over 75 planes and spacecraft representing over 100 years of aviation. The Museum was recently recognised and listed on New York State's National Register of Historic Places as an important part of American history. It is located on Museum Row, Charles Lindbergh Blvd, Garden City.
For more information
https://www.cradleofaviation.org
(News Source: https://www.longisland.com/)
(Photos: Cradle of Aviation)