By Chris Stonor
NASA is to assist with U.S local governments to plan for the future of Advanced Air Mobility (AAM) operations, reports a press release.
Five state and local government bodies have signed agreements with NASA's aeronautical innovators to work together in considering "how emerging cargo-carrying drone and passenger-carrying air taxi services can best be included in their civic transportation plans."
These operations will take place through the summer of 2022, each including a series of at least four workshops where experts from the localities and NASA's AAM mission will work on updating both local plans and creating new ones that might be required.
https://www.nasa.gov/aam/overview/
The five government bodies are:-
: The Massachusetts Department of Transportation
: The Minnesota Department of Transportation
: The North Central Texas Council of Governments Department of Transportation
: The Ohio Unmanned Aircraft Systems Centre of the Ohio Department of Transportation
: The City of Orlando, Florida
The group will include additional partners drawn from local governments, airport authorities and operators, chambers of commerce, universities, vehicle and subsystem manufacturers, infrastructure providers, workforce development organizations and others.
The workshops are to address a wide range of important topics related to AAM, from identifying a common set of terms to use in discussions and planning documents, to evaluating potential criteria that might be used in locating future vertiports for VTOL aircraft and more.
Nancy Mendonca, NASA's deputy AAM mission integration manager, said, "What's the best way for a local government to implement an AAM system that is equitable, sustainable, and integrated with its other transportation systems? Answering that is a big part of what this is all about."
Another major goal for the outcome of these agreements is to develop a "best practice" document around a key topic that other states and municipalities might follow in developing their own plans for integrating AAM into their transportation systems.
Mendonca continued, "We also hope these workshops and any subsequent best practices that are identified will address successful methods for engaging the public in the planning process and generating support for AAM in their communities."
NASA's AAM is a vision to help create safe, sustainable, accessible, and affordable air travel to support emerging aviation markets at the local and regional level using revolutionary new aircraft that are only just now becoming possible.
The so-called Space Act Agreement calls for NASA to host and provide subject matter experts for at least four so-called "tabletop" workshops, which means they would involve a relatively small number of people sitting around a large conference table.
Mendonca explained, "Details about when and where these workshops will be held, how the work can be subsequently shared, and how the changing status of the pandemic will influence work under this agreement will be worked out with each partner."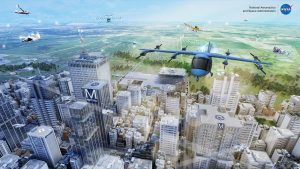 More specifically, NASA is to share with partners what it has learned to date about the challenges associated with planning for and safely operating new types of aircraft, the ways to approach solving those challenges, and what NASA has in store for future research that includes hosting flight demonstrations as part of its AAM National Campaign.
This National Campaign "is a series of flight demonstrations that will bring together aircraft manufacturers, airspace traffic management service providers, and others to show how AAM can safely operate and earn public confidence and support."
NASA researchers also will take what they learn from this new group of partners to refine their research and share that information with other industry and government groups involved with AAM including the Federal Aviation Administration (FAA).
Meanwhile, the partners will utilise their planned and existing public engagement forums to provide progress on their current transportation planning and AAM-related efforts. The partners also aim to work with the teams they have assembled for this effort to advance AAM opportunities and operations in areas beyond the efforts detailed in their agreements with NASA.
These five agreements are the latest to be signed in a series of three collaborative opportunities NASA has announced as part of AAM and the National Campaign.
The first opportunity led to 17 partners signing Space Act Agreements in one of three categories: developmental flight testing, developmental airspace simulation, or vehicle provider information exchange.
A second opportunity was released in early February and is now closed. No agreements have been signed yet as NASA exercises the agreement approval process. It invited industry to apply to participate in the first full phase of testing for the National Campaign in 2022. This included flight, airspace, and operations support for infrastructure testing.
The third collaborative opportunity, also released in February, and now closed, invited diverse partnerships involving vehicle manufacturers, automation subsystem developers, and community-based organizations.
Agreements signed so far under this third opportunity are these four states and one city representing the community-based organisation category. Announcements of approved agreements involving the other topics are anticipated soon.
 For more information