By Chris Stonor
The last four days has seen two major breaking news stories concerning the UK, Bristol-based eVTOL company, Vertical Aerospace.
First, the company announced a collaboration with GKN Aerospace to design and manufacture electrical wiring interconnection systems (EWIS) and aerostructures for its VA-X4 eVTOL, reports a press release.

And this morning the Wall Street Journal broke the story that Helicopter operator, Bristow, has placed a pre-order for 25 aircraft plus an option for 25 more. This comes on the back of an already 1,000 orders for its craft, first mentioned in June, from such purchasers as Dublin-based aircraft leasing company Avolon and American Airlines, as well as a pre-order option from Virgin Atlantic, worth USD4 billion.
Re: GKN Aerospace, John Pritchard, President of GKN Aerospace's Civil business, commented,"Our company has decades of experience as a leader in both aerostructures and EWIS and we are excited to use that expertise to accelerate the transition to a more sustainable aviation."
Stephen Fitzpatrick, Founder and CEO of Vertical Aerospace, added,"Their expertise in producing aerospace systems and structures will help the VA-X4 to meet the stringent safety standards mandated by the CAA and EASA, an essential step forward in our efforts to electrify flight."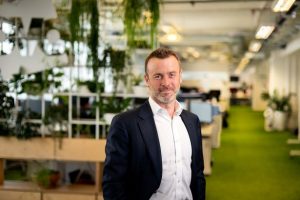 Stephen Fitzpatrick
Footnote
This important partnership sits within Vertical's carefully constructed ecosystem of top-tier partners, which includes Microsoft, Rolls-Royce, Honeywell and Solvay. By working with such innovative and accomplished technology and aerospace companies, Vertical has not only assembled diverse expertise from world class organisations, but ensured it can accelerate its path to certification, de-risk execution, allow for a lean cost structure and enable production at scale.
Visual presentation
https://www.youtube.com/channel/UCMrfQ2oH7u7IVG5z0mFlWXQ
For more information
https://vertical-aerospace.com