By Chris Stonor
Porsche has carried out a recent research study of the air taxi market that's ended up as little more than a patronising dismissive. This from a company who two years ago made world headlines after announcing a partnership with Boeing to create "flying cars for rich people." The author of this report is Gregor Grandl, a Senior Partner at Porsche Consulting.
https://www.theverge.com/2019/10/11/20909771/porsche-boeing-partnership-flying-cars-rich-people
https://www.youtube.com/watch?v=BqbOwYMpwfc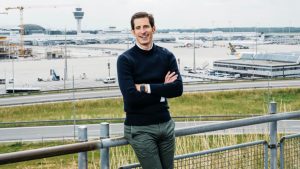 Gregor Grandl
The study uses such phrases as "vertical mobility is attracting unprecedented hype in the financial markets" and verbal gloss like  "passenger drones are suitable for easing neuralgic pressure in urban contexts." Grandl decides the market "will reach around USD32 billion by the year 2035," but this trajectory requires enormous investment "of more than USD20 billion."
His disenchanted attitude continues, "Before the first commercial routes can be flown as of around 2025, the manufacturers of these vehicles alone will have to invest up to USD10 billion in development." And continues, "At least half a million passengers a day will have to use air taxis for the sector to assume a relevant share of the market by 2035. That would require 1,000 to 2,500 take-off and landing spots in as many as 60 suitable cities worldwide."
Perhaps, Grandl is attempting to excuse the deafening silence of the Porsche/Boeing "flying car" project?
He then says, "The idea of vertical mobility is attracting unprecedented hype in the financial markets. Investment in the billions is flowing into this young sector, despite its products having yet to take off."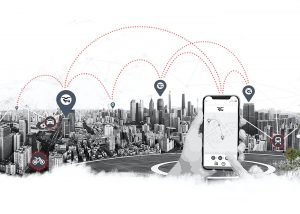 While Grandl accepts that "VTOL vehicles have the potential to become an attractive means of transportation over the next 15 years", he then backtracks, "However, air taxis alone cannot solve the current and future problems associated with traffic and transport, because their development and market success are linked to considerable risks and hurdles of both a technical and commercial nature."
Even so, Grandl agrees that "Vertical mobility can develop into a lucrative niche area," but then points out, "If air taxis are to become a reality for everyone, courageous pioneers with persistence, deep pockets and a sense of responsibility will be needed."
He believes that vertical mobility will become commercially relevant "only when large parts of the population begin using it and an enticing network of routes is established."
Porsche associate, Federico Magno, Executive Director Mobility at Porsche Consulting, is even more dismissive. "We estimate the eVTOL market share in 2035 to be less than 0.3 percent. Mobility of the future will therefore need even more ideas and strategies."
Some might say the eVTOL industry requires an injection of grounded reality, when other studies are more effervescent about the future. Yet, Grandl's criticisms are akin to any other nascent, cutting-edge tech industry, for as Brian Tracey, motivational public speaker and self-development author, says,"The future belongs to the risk-takers, not the comfort-seekers."
For more information