Chris Stonor
The potential damaging court action between Wisk and Archer over claims of "violation of trade secrets" is heating up as the defendant Archer guns for the judge to dismiss the lawsuit stating it is "baseless", reports cnbc.com. In a brief filed with the U.S. District Court for Northern California, Archer says a lawsuit filed by Wisk Aero has no merit.
A company statement says, "Wisk improperly seeks to interfere with Archer's billion-dollar transactions with this baseless lawsuit and simultaneous media campaign, both launched just after the transactions were announced. That is because while Archer has soared, Wisk is at risk of crashing."
It continues, "Despite the breathless innuendo and baseless speculation to which Wisk devotes its entire complaint, Archer's eVTOL aircraft design is not only the best eVTOL aircraft around, it is entirely Archer's design."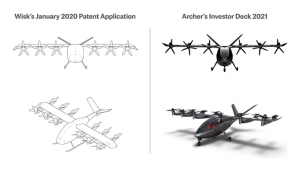 Previous UAMN Articles on Developing Story:
https://www.urbanairmobilitynews.com/air-taxis/shock-statement-wisk-aero-claim-archer-aviation-stole-evtol-technology-from-its-company/
https://www.urbanairmobilitynews.com/air-taxis/wisk-to-provide-and-operate-up-to-30-evtols-for-key-blade-uam-routes/
Around seven weeks ago, Wisk Aero sued Archer, alleging the company had access to more than 50 trade secrets after hiring former Wisk employees. Wisk was founded in 2019 through a joint venture backed by Boeing  and Kitty Hawk, a start-up created by Alphabet co-founder Larry Page. The company has announced plans for an urban air-mobility partnership with Blade that centres around eVTOL aircraft Wisk is developing.
In a motion filed in mid-May seeking an injunction to stop Archer from developing an eVTOL, Wisk attorneys wrote: "The similarities between the two companies' designs could not have been a coincidence or the result of independent development by Archer."
Meanwhile, Archer's attorneys say Wisk's claims don't add up. In its brief, Archer argues, "There is not a shred of evidence that Archer ever used, or even was aware of, any Wisk trade secret. Despite its 73 pages and over 200 paragraphs, Wisk's complaint does not specifically identify a single Wisk trade secret, let alone any secret ever used by Archer."
It is unclear "if or when" the lawsuit comes to court.
Visual presentation
https://www.youtube.com/watch?v=a_K7DVXCbqE
https://www.youtube.com/channel/UCc5VG4FoQRTvnHYphJrbYgA
For more information
(News Source: https://www.cnbc.com/world/?region=world)