By Chris Stonor
Varon Vehicles and D3 Technologies have signed a Memorandum of Understanding (MoU) stating that D3 is to become a partner in "Varon Vehicles' ecosystem of paving the way to UAM", reports a press release.
D3 Technologies specialises in developing automated and safe commercial passenger transport in urban air spaces. While Varon Vehicles is presently developing "infrastructure networks" which, as the release says, "Are vertiports in regions, suburbs and cities along with virtual lanes over the low altitude skies connecting them, for the fleets of its eVTOL next generation aircraft."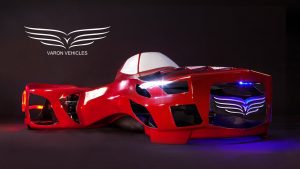 V200 Flying Car
It continues, "These are a new form of mobility infrastructure that will not require per-mile construction, with which the company can provide diverse transportation services in different markets."
Felipe Varon, CEO and Founder of Varon Vehicles, commented, "Our Traffic Management Systems (TMS) will be the central brains of our operations, as it is there that our aircraft will be orchestrated in a safe and reliable manner without burdening air traffic control or any other traditional aviation systems."
He continued, "We are delighted to be collaborating with D3 Technologies as they bring important capabilities for an integrated solution providing highest aviation safety that includes weather and off-nominal situation management, airspace architecture design and real time aircraft monitoring capabilities, which are crucial for our TMS requirements."
Felipe Varon
Achim Kostron, Chief Commercial Officer of D3 Technologies, added, "We are convinced that a future UAM ecosystem must be interoperable and designed at the highest level."
Footnote
Earlier this year, D3 Technologies became a member of the CAAM (Canadian Advanced Air Mobility Consortium) and a RTM partner in the Canadian AAM Masterplan.
Varon Vehicles is, perhaps, best known for its prototype V200. A three propeller, two passenger and cargo carrying eVTOL aircraft that uses simple pilot controls aided by flight software for low altitude flying. The dashboard looks more like that of a car than an aircraft cockpit (see video below).
Visual presentation
https://www.youtube.com/watch?v=X5BW5ss4Tac&feature=emb_imp_woyt
https://www.youtube.com/watch?v=sdhPRlf3kAA
For more information