By Chris Stonor
UK-based Vertical Aerospace (VA) announced this week that it has agreed a joint development program with Leonardo, the Italian multinational company specialising in aerospace, defence and security, for the design, testing, manufacture and supply of the carbon composite fuselage for VAs VX4 electric aircraft, reports a press release.
The two companies are to work together on optimising lightweight composite structures, modular design, systems installation, and structural testing for the co-development of the aircraft's fuselage.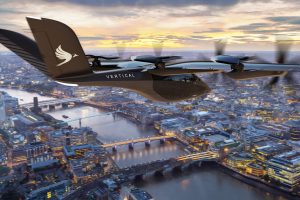 This program will cover at least six aircraft up to the successful certification of the VX4. The agreement has also stated the potential to scale fuselage production of 2,000 aircraft a year to meet VAs existing order book demand. Vertical has what it believes "is the largest conditional pre-order book (by value) in the eVTOL industry, of up to 1,350 aircraft worth USD5.4 billion" from American Airlines, Avolon, Bristow and Iberojet, including pre-order options from Virgin Atlantic and Marubeni and through Avolon's placements, airlines JAL and Gol.
The release says, "Leonardo has long-established expertise in composite aerostructures development and manufacturing on civil and defence programs. The aerospace firm also has a close relationship with Vertical's strategic composite materials supplier, Solvay.
Vertical and Solvay are jointly developing advanced materials and manufacturing technologies that will enable high volume manufacture of the VX4." Vertical's collaboration with Leonardo builds on its other partnerships including Rolls-Royce, Honeywell, Solvay, GKN and Microsoft.
Michael Cervenka, President of VA, commented, "I'm thrilled that Leonardo will be joining us in this journey. We have a market-leading pre-order book for our VX4, and this partnership will ensure that we can scale the programme to meet demand."
Lucio Valerio Cioffi, Leonardo's General Manager, added, "Advanced air mobility is part of Leonardo's mandate to innovate using our cutting edge, human-centred technology and industrialisation expertise."
Giancarlo Schisano, Managing Director of Leonardo's Aerostructures Division, said, "Leonardo strives to bring new technologies, materials and processes into our established practices in our production sites. This will be the case at our Grottaglie plant in Southern Italy, where we will focus our VX4 activities. The plant is one of the most advanced facilities in Europe to produce composite aerostructures."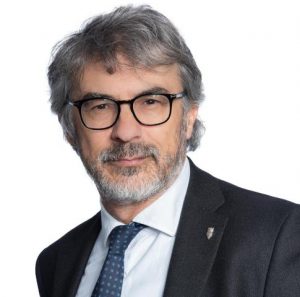 Lucio Valerio Cioffi
The continuous development and integration of cutting-edge solutions across all domains, such as Advanced Air Mobility, is a key element of Leonardo's BeTomorrow2030 Strategic Plan.
For more information
https://www.leonardo.com/en/home