By Chris Stonor
Volocopter and CAE announced this week "a signing of a strategic partnership" to develop, certify and deploy a pioneering pilot training program for eVTOL operations, reports a company press release.
A first in the industry, this program will develop the pilot workforce of the future and ensure safe introduction of worldwide eVTOL operations by using CAE's advanced technologies such as Artificial Intelligence (AI), Virtual Reality (VR), Mixed Reality (MR), as well as data analytics, alongside Volocopter's growing experience of the Urban Air Mobility (UAM) ecosystem.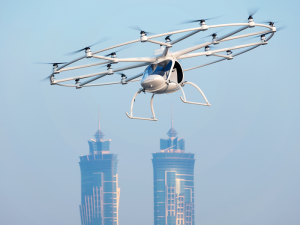 CAE has committed to expanding its worldwide training network with an investment forecast of up to USD40 million to meet Volocopter's projected pilot demand during the initial years of operation. The company is to deploy training equipment and instructors in unison with Volocopter's rising growth.
As part of the agreement, Volocopter will purchase a simulator from CAE to be employed as part of the pilot training program certification, while CAE is to create new, student-centric courseware, specifically designed for "eVTOL pilots of the future" including pilot trainees customised resources that enable faster, more efficient training.
Florian Reuter, CEO of Volocopter, commented, "As we scale our UAM services in cities around the world, specific pilot training and qualification for our Volocopters will be an important element. We are excited about CAE's endorsement and look forward to collaborate as partners focused on combining future-oriented technologies to ensure aviation safety."
Pilot Trainees Head Towards CAE Course Centre
Nick Leontidis, CAE's Group President, Civil Aviation Training Solutions, added, "We are committed to supporting Volocopter's inspiring vision and we look forward to leading in the design of UAM pilot training that prioritises safety of operations through our data-driven solutions, world-class training experience, and longstanding relationships with civil aviation authorities across the globe."
As outlined in CAE's Advanced Air Mobility (AAM) white-paper published this month, an estimated 60,000 pilots are required within the first decade of operation. Volocopter and CAE will work closely together to obtain regulatory approval for their training program.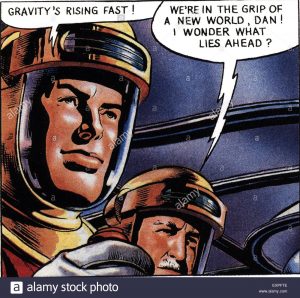 Footnote
CAE is a high technology company at "the leading edge of digital immersion." Backed by a record of more than 70 years of industry firsts, the company "continues to reimagine the customer experience and revolutionise training and operations." It has around 10,000 employees, 160 sites and training locations in over 35 countries.
For more information
(Pics from 1950s Eagle Annual/Dan Dare Comic Strip)