By Chris Stonor
Volocopter has no difficulty in attracting investment for its eVTOL business and the latest Series D funding round that gained USD240 million has attracted esteemed investor names like BlackRock, Avala Capital, Continental AG and Tokyo Century, reports a press release. In fact, the company's investment potential is deemed so attractive that this round was oversubscribed.
Rene Griemens, CFO of Volocopter, commented, "Our shareholder structure remains well balanced with a healthy mix of strategic and financial partners spread as globally as our business ambitions."
Previous UAMN Articles on Volocopter:
https://www.urbanairmobilitynews.com/air-taxis/volocopter-to-test-uam-operations-at-paris-pontoise-airfield/
https://www.urbanairmobilitynews.com/air-taxis/volocopter-focuses-on-achieving-air-taxi-services-in-singapore/
Volocopter has now raised close to USD400 million. This latest funding is to be used to solidify the company's leading position in the UAM market by bringing the VoloCity to certification and by accelerating the launch of its first commercial routes. Volocopter's future services range from electric autonomous air taxis flying passengers directly and safely to their destinations, to transporting goods with the company's VoloDrone. Apart from multipurpose aircraft (VoloCity and VoloDrone), there is the physical and digital  infrastructure (VoloPort and VoloIQ).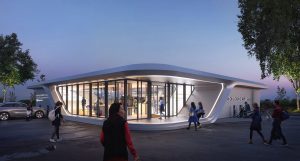 Florian Reuter, CEO of Volocopter, said, "The company is ahead of the curve in the UAM industry, and we have the achievements to prove it. No other electric air taxi company has publicly performed as many flights in cities around the world, with full regulatory approval, as Volocopter has." He added, "Our VoloCity is the fifth generation of Volocopter aircraft and has a strong path to being the first certified electric air taxi for cities."
Having ten years of development experience helps and the company is the first and only electric vertical take-off and landing (eVTOL) aircraft to receive Design Organisation Approval (DOA) by the European Union Aviation Safety Agency (EASA). Volocopter expects its first commercial air taxi routes to be opened during 2023.
Founded in 2011, Volocopter has achieved several milestone flights in Helsinki, Stuttgart, Dubai, and over Singapore's Marina Bay in recent years. While the first routes are yet to be announced, the company has committed to establishing air taxi services in Singapore and Paris, with plans to expand many more routes in the US, Asia, and Europe.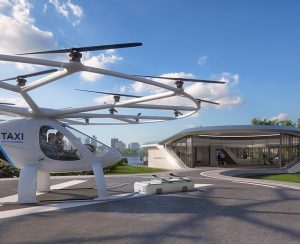 Volocopter has 300 employees based at offices in Bruchsal, Munich, and Singapore. Meanwhile, existing investors including Geely, Daimler, DB Schenker, Intel Capital, btov Partners, Team Europe, and Klocke Holding.
Visual presentation
https://www.youtube.com/watch?v=-phq8oepWjU&feature=emb_logo
For more information