Yesterday, Volocopter carried out another milestone by flying over  South Korea's Incheon Airport with a manned crew on-board, watched by hundreds of excited spectators, reports a press release.  
As part of the 2021 K-UAM Confex, the 5-minute flight trial covered close to 3 kilometres, reached a maximum altitude of 50 metres and a maximum speed of 45 km/h. This comes after the air taxi company completed a public test flight at Gimpo International Airport a week earlier. It was the first-ever crewed public test flight of an eVTOL air taxi in the Republic of Korea.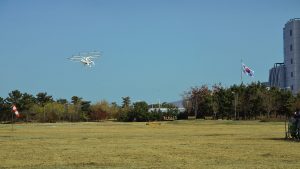 Florian Reuter, CEO of Volocopter, commented, "We are very excited to have flown our air taxi in South Korea not once, but twice in the last week, which is great to increase public awareness on urban air mobility."
He continued, "As a new mode of transport, air taxis complement the existing mobility solutions and let people reach their destinations faster and more comfortably in megacities such as Seoul."
Volocopter is presently on "an exhibition tour" of world countries. Its next "public gig" will be at the CoMotion LA event in Los Angeles, USA, followed by the  European Rotors event in Cologne, Germany. Both displays take place between November 16th-18th.

As an Urban Air Mobility (UAM) industry leader, Volocopter's 2011 flight  was the first crewed eVTOL flight in aviation history and since has developed a family of eVTOL Aitcraft that can transport passengers (the VoloCity and VoloConnect) and goods (the VoloDrone). It is the first and only eVTOL company globally, to date, to have obtained both design and production organization approvals from European Union Aviation Safety Agency (EASA).
Visual presentation (Gimpo Airport)