By Chris Stonor
This year has not been kind to shareholders of eVTOL stocks. It began with a bang as EHang shares flew through the roof, rising from USD24 a share at the start of January to striking USD124 six weeks later, a reminder of the 1720 South Sea Bubble and more recently the dotcom boom of the late 1990s.
As with all meteoric rises, tears follow, and after a damming report from U.S. financial analyst Wolfpack, the price duly plummeted down to USD22 three months later, where it has bumped along a bottom 20 percent trading range since.
EHang: The Remarkable Rise and Fall
Meanwhile, Joby Aviation pulled out all the marketing stops and after a razzmatazz fanfare, floated on the New York Stock Exchange in August. Its share price initially rose 30 percent to a USD13.40 high, before fizzling out where it has lain between a USD8 and USD10 range since.
Lilium and Archer then took on the mantle a month later, but have faired no better. It's all quiet on the eVTOL front and may continue to be so for awhile yet. If you are seeking to make money in the short term from the stock market, this is not the sector for you.
In fact, the website cleantechnica.com really put the knife in this week when it claims the eVTOL industry has lost around USD16 billion this year when based on share value. Is it no surprise then that Vertical Aerospace has gone silent on its proposed floatation.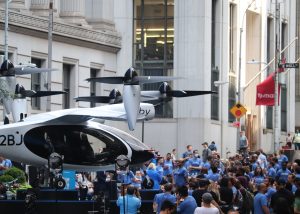 Joby: Fanfare and Razzmatazz
The journalist, Michael Barnard, points out that at the eVTOL peak in 2021, stocks including Vertical's proposed SPAC, were worth on paper USD27.92 billion. As of close of North American markets on November 23rd, they are now worth USD11.82 billion, if you assume Vertical's USD2.2 billion valuation stands up, which is, perhaps, an optimistic assumption in the present climate.
The knife is then twisted and splayed even further when this dramatic collapse of value is compared to the general stock market. For example, the S&P 500 is up 24.88 percent year-to-date, the Dow Jones 17.01 percent and the NASDAQ 22.4 percent. And to really rub it in, the God of all stocks, Tesla, is up yet another 57.16 percent.

Yet, eVTOL shares and their holders may well have the last laugh, for patience and faith are its trusty bedfellows. As the 2024 Paris Olympics looms, as vertiports are constructed, as further eVTOL trials, longer and more impressive, take place, the trend will return and share prices may soar once again. Just make sure "You're in it to win it!"
Meanwhile, Barnard suggests present investors should diversify their holdings and move into the "nuts and bolts", the logistics behind eVTOLs, whether companies involved with vertiports or those producing batteries. This makes good sense and creates a better balanced portfolio.
Yet, at times of uncertainty, if your holdings drop further, remember American author, D. Elton Trueblood. He wrote, "Faith is not belief without proof, but trust without reservation."
Read Feature
https://cleantechnica.com/2021/11/24/pure-play-urban-air-mobility-company-stocks-lost-over-16-billion-in-2021/
(News Source: https://cleantechnica.com/)