By Chris Stonor
 In this latest slick video from Airbus, Joerg P. Mueller, Head of UAM and Balkiz Sarihan, Head of UAM Partnerships, do that "top 20 thing" with a twist. How many CityAirbus NextGen accomplishments during 2021 can be mentioned in just one minute?
The two professionally rip through the list without faltering (how many takes did it take?) which includes:-
: CityAirbus NextGen unveiled
: 242 ground and flight tests analysed
: Engineering activity up 40 percent
: Set-up ecosystems in Paris and Bavaria
: Engaged in over 30 public outreach events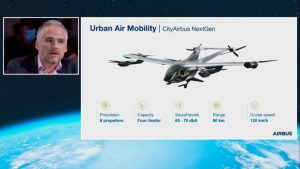 Airbus must never be underestimated. While all the present UAM publicity surrounds JOBY, EHang, Archer, Volocopter and the rest, come the Paris Olympics 2024, the CityAirbus NextGen could well be the star of the show.
 Watch Video:
https://twitter.com/AirbusHeli/status/1488140161401724933
For more information
https://www.airbus.com/en/innovation/zero-emission/urban-air-mobility/cityairbus-nextgen
https://www.airbus.com/en/innovation/zero-emission/urban-air-mobility