By Chris Stonor
Since news broke last week of Boeing's USD450 million investment in eVTOL company Wisk Aero, making it one of the most well-funded advanced air mobility (AAM) companies in the world, the company is now not only being taken seriously as a major future player in the eVTOL industry, but in present media eyes is "hot, hot, hot!" Wisk Aero's CEO, Gary Gysin, has been doing the media rounds and this interview was carried out on Yahoo Finance a few days ago.
After offering the usual background information on the positive aspects of the eVTOL market,  Gysin goes on to say in this 6.5′ interview, that while it may take several years to gain certification, "the market is hot" for such an innovation, and then emphasises the many positives of collaborating with the "No.1 aerospace leader in the world".
Safety and travel affordability is then discussed where Gysin comments, "Our goal is to have college students or somebody who is just entering the workforce that can afford this as an everyday mode of transportation."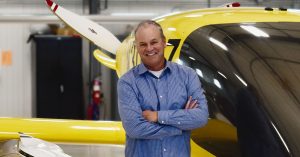 Gary Gysin
Finally, the question of vertiports is mentioned and the increasingly enthused Gysin offers a scoop to Yahoo by saying that Wisk has a "20 city roll-out" plan in the offing to launch the service "in a few years time".
Q: Is Archer quaking in its boots now that Wisk has the huge clout of Boeing behind them? There has been no news on the acrimonious lawsuit since last September. eVTOL.news is one of the last media outlets to mention it.
https://evtol.news/news/wisk-v-archer-v-wisk
Watch Interview:
https://twitter.com/YahooFinance/status/1487176503980965895
For more information