By Chris Stonor
Futuristic-looking concepts are a wonderful thing, but few make it from the glossy YouTube CGI to an actual physical structure and even fewer then eventually come to market.
The latest designs to marvel at emanate from the Italian design studio, Lazzarini, founded by 39 year-old Pierpaolo Lazzarini. He describes himself as "a designer with artistic visualisation and prototyping skills" with a background "in the automotive field," who believes "in a different design approach," and believes in the motto "think about the future never forget the past." Certainly, the concept images portray his philosophy.
Pierpaolo Lazzarini
This week the UKs Daily Mail newspaper gave Lazzarini some incredible FREE publicity via a major feature on his latest "Mega 490ft-long superyacht-cum-blimp that is designed to FLY as well as sail is unveiled in futuristic concept". Perhaps, using the word "blimp" is a little unkind, although the newspaper then describes the concept as a "James Bond-styled" airship yacht.
https://www.dailymail.co.uk/sciencetech/article-10390311/Mega-air-yacht-helium-filled-blimps-designed-FLY.html
According to the newspaper's website, "The dry carbon fibre structure can reach 60 knots thanks to four solar-powered electric propellers and two helium-filled blimps, allowing it to fly, hover and float on the water too. Air Yacht stays airborne because its blimps are inflated with a gas that is lighter than air – in this case, helium – while it gets momentum from its massive propellers.
"The overall length of the dry carbon fibre structure would be nearly 300 ft (150 metres), with a width of 260 ft (80 metres), while the main central deck would measure 260 ft in length and 30 ft (10 metres) wide."
It continues, "Air Yacht's twin blimps contain 400,000m3 of compressed helium propelled by eight counter-rotating propellers, each powered by ultra-light batteries and solar panels."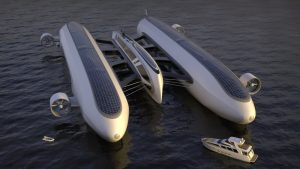 According to Lazzarini, the craft could fly at a maximum speed of 60 knots, nearly 70 miles per hour, for more than 48 hours. The Daily Mail then states, "The Air Yacht is not an airship for public transportation or touristic purposes, but is conceived for a private owner with a vision of mega yacht/aviation evolution."
Given there are over 62 million people in the world worth USD1 million or more and 2,750 billionaires, Lazzarini potentially has a sizeable market.
The Mail goes on, "Air Yacht takes to the sky thanks to two huge blimps, both of which feature central compartments inaccessible to passengers that contain the helium. Circling around the helium compartments within the blimps are concourses and private suites containing beds and washing facilities so that passengers can spend multiple days on Air Yacht during long voyages. There are five suites for passengers available on each blimp side with impressive sky window views."
And continues, "There's even a wide, windowless viewing platform at the back of each blimp, which lets passengers see the waves splashing beneath them when on water, or alternatively get some fresh air at 5,000 feet when airborne.Both blimps are connected to a central compartment by four carbon bridges, through which passengers can walk.
"This central compartment acts as a communal space for passengers to gather, relax and eat meals. It provides a luxury viewing area for the passengers, featuring a swimming pool, carpeted lounge and a spacious living room with dining facilities. At the bottom of each of the two blimps are so-called 'inflatable basements' that fill up with air when approaching water, allowing the vehicle to float when required."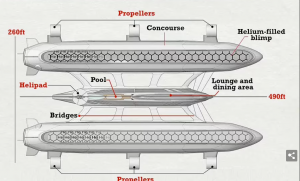 Lazzarini is quoted in the feature: "The Air-Yacht is pushed down from the rotation of the engines and can stand in the water through depressurisation of helium and ballast anchor system. It can sail quietly in the water with a speed of five knots."
Visual presentation
https://www.youtube.com/watch?v=87pW14GzSGM
For more information
https://www.lazzarinidesignstudio.com/aerospace
https://www.instagram.com/lazzarinidesign/
(News Source: www.dailymail.co.uk)
 (Images: Lazzarini/SWNS)