By Chris Stonor
Archer Co-Founders Brett Adcock and Adam Goldstein sat down with United Airlines CEO, Scott Kirby, last week, to discuss the future of flight with Archer's Maker aircraft and how the eVTOL company fits into United's commitment to go 100 percent carbon neutral by 2050.
It is a little strange seeing a major customer and investor interviewing its clients, so the 3-minute chat is full of "great question, Scott!" alongside general backslapping and enthusing from both sides. No-one, surely, expects any critical or probing enquiries.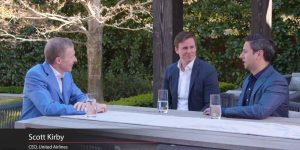 Chicago-based United has invested USD20 million and placed 300 aircraft orders, both non-firm and options, to the value of close on USD1 billion, for Archer's Maker. This major U.S airline operates a large domestic and international route network spanning cities large and small across the United States as well as all six continents.
Archer's Founders echo Stanley Morgan's projected USD1.5 trillion AAM market share by 2050, but go one step further by stating USD1.5 to 3 trillion and then have the audacity to suggest, "But we believe this could be considerably larger than that as technologies improve and the travel costs keep coming down." There is nothing like hyping up a market for a major customer.
Worth a watch just to view a highly slick and professional PR exercise at work.
Watch Video:
https://www.youtube.com/watch?v=kX6cEVrRqEw&t=3s
Meanwhile, www.dronedj.com recently published "an exclusive interview" with Archer's co-Founders entitled: Archer CEOs Discuss 2022 eVTOL Air Taxi Development Goals, carried out by website contributor, Bruce Crumley, formerly a Paris correspondent and bureau chief for Time Magazine specialising in political and terrorism reporting!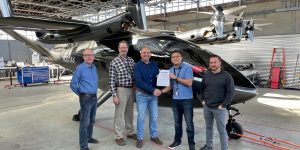 Archer Team celebrating Special Airworthiness Certificate Following Successful FAA Inspection (Dec '21)
Read Interview
https://dronedj.com/2022/02/28/archer-ceos-discuss-2022-evtol-air-taxi-development-goals/
For more information