By Chris Stonor
It seems a while ago now (two weeks is a long time in the life of a rising eVTOL superstar), but you can't keep a good organisation down like Joby Aviation for too long, especially when new videos of its recent accomplishments keep on being posted.
UAMN Previous Article:
https://www.urbanairmobilitynews.com/air-taxis/ring-that-bell-joby-aviations-most-consequential-day-to-date/
Now review its BIG day on August 11thand the company's celebrations surrounding the first day as ticker symbol JOBY on the New York Stock Exchange. It reminds one of watching a past family member's birthday party.
The good news is, that sinking share price feeling is a distant memory as JOBY's value rebounds from recent lows of USD8 and is back now at its opening price of USD10+.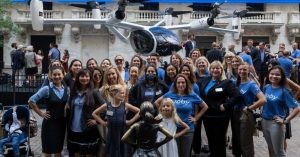 Watch video