Chris Stonor
EHang continues to boss the eVTOL media news flow after ending 2021 in a flurry of business activity, while beginning 2022 in spectacular style.
First, on December 23rd news broke that the Chinese company had sold its first long-range VT-30 AAV to Japan and less than a week later reported a partnership with Guangzhou Development District Communications Investment Group to jointly launch the 5G Intelligent Air Mobility Experience Centre at the Innovation Park in Huangpu District, Guangzhou, China.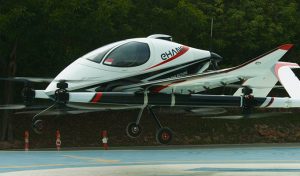 VT-30
Previous UAMN Articles:
https://www.urbanairmobilitynews.com/air-taxis/ehang-wins-first-order-for-vt-30-will-work-with-japanese-partners-to-develop-uam-sector/
https://www.urbanairmobilitynews.com/air-taxis/ehang-integrates-5g-operations-centre-into-its-guangzhou-uam-programmer/
Meanwhile, Aviation Week nominated EHang the top spot in its "Technology Highlights of 2021" list for the introduction of its VT-30 beating contenders like Embraer and Ampaire, while the Economist in a major series called "The World Ahead" that looks at emerging technologies for 2022, mentions EHang under the heading Flying Electric Taxis.
https://aviationweek.com/aerospace/emerging-technologies/technology-highlights-2021
https://archive.ph/20211109220314/https://www.economist.com/the-world-ahead/2021/11/08/what-next-22-emerging-technologies-to-watch-in-2022
Then, on New Year's Eve, EHang played an integral role in a spectacular display over Hong Kong combining both fireworks and the company's drone light show that is becoming a major business and growth area for the Chinese company.
While, the EHang share price may be taking a beating, the company's medium to long-term growth remains on course.