By Chris Stonor
In just the last four months alone, EHang has captivated three world leaders with its 216 AAV technology: President Macron, Chinese Premier, Li Keqiang and yesterday, King Felipe VI of Spain.
Previous UAMN Articles:
https://www.urbanairmobilitynews.com/air-taxis/chinese-premier-visits-ehang-exhibition-booth-at-china-import-and-export-fair/
https://www.urbanairmobilitynews.com/express-delivery/ehang-close-to-joining-forces-with-spanish-policia-national/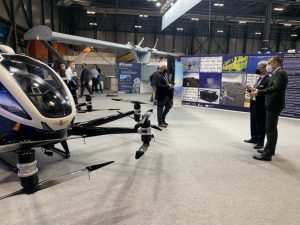 The 216 is being displayed at the World ATM Congress in Madrid at the Canary Islands Government booth under the colours of the Spanish National Police. An agreement's been made for the craft to be trialed by the police to assist in its work.
Who should attend the first Congress day, but the King of Spain, Felipe VI. Social media claims, he was keen to view the EHang craft and spent a fair amount of time looking around it and asking delegates questions.
Watch Video:
https://twitter.com/policia/status/1452937120822218756
This growing list of interested world leaders can only help EHang's cause. The publicity alone boosts the company's standing and widens public awareness.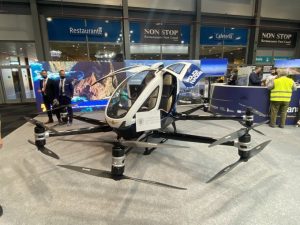 Footnote
The Policia Nacional is the national civilian police force of Spain. The CNP is mainly responsible for policing urban areas, whilst rural policing is generally the responsibility of the Civil Guard, the Spanish gendarmerie. The CNP operates under the authority of Spain's Ministry of the Interior.