By Chris Stonor
The Turkish-based AirCar company that is designing a flying car for both personal and cargo usage, has released a new update video. UAMN are closely following the development of this exciting new venture.
In a tweet posted yesterday, the company writes, "Herald of the new era in urban transportation. AirCar aims to carry cargo in 2023 and passengers in 2025. Are you ready to fly? Flying saucer "With #AirCar, our way of transportation will completely change." (Apologies for the somewhat "random translation" from Turkish to English). Medical services are also included alongside the cargo carrying in 2023.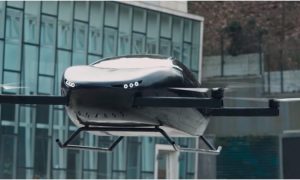 Previous UAMN AirCar Articles:
https://www.urbanairmobilitynews.com/air-taxis/meet-the-aircar-the-latest-flying-car-on-the-block/
https://www.urbanairmobilitynews.com/air-taxis/watch-video-aircar-first-public-footage-includes-inaugural-flight-of-full-size-prototype/
Founded in 2017 by Eray Altunbozar, he talks in English to a Bilism Vadisi camera.  As an aside, this organisation is an innovative Turkish technology group. Its administrative office is particularly futuristic-looking. Take a look at the photos.
https://archello.com/story/54716/attachments/photos-videos
Watch AirCar Latest Video: