By Chris Stonor
You can now watch a video from the Morgan Stanley, May 12th, "Virtual eVTOL UAM Summit," showcasing EHang and the company's presentation for investors. The video is 37.36′ long and covers up-to-date company news.
Read Previous UAMN Article:
https://www.urbanairmobilitynews.com/air-taxis/morgan-stanley-archer-ehang-first-evtol-heavyweights-to-showcase-at-major-series-of-uam-virtual-webinar-summits-starting-wednesday-may-12th/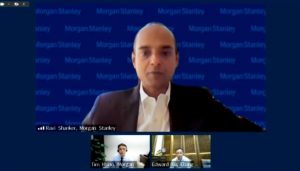 This virtual conference is hosted by Morgan Stanley's Tim Hsiao and Ravi Shankar who offer questions to Edward Xu, EHang's Chief Strategy Officer, as well as others emailed in by investors.
Xu clarifies EHang's future strategy that suggests the company is leaning more towards AAV rental rather than actual sales. While there is much discussion on social media about EHang's development of its longer distance VT30, Xu drops a hint towards the end of the presentation that the company already has plans to build a further and much larger AAV that can hold a lot more passengers.
Fascinating.
Watch Virtual Presentation