By Chris Stonor
The Twitter EHang bloodhounds are at it again with a bow this time to J.Cruz for his excellent sleuthing. Here are two stories in one:
First, an up-close photo of the VT30 under construction minus its propellers, oops sorry, rotors, (taken from the video) at EHang's new Yunfu Factory facility. Surely, there are still question marks over the use of such rotors, given the difficulty the company may face in gaining European certification?
Second, is the new video released by EHang on Wednesday, showing off the new Yunfu facility alongside a brief unofficial one taken on a mobile phone in July.
The company says, "The EHang Yunfu production facility is approximately 24,000 sq. metres in gross floor area to house the major AAV production processes from manufacturing of key components and carbon fibre composite airframes to AAV assembling and flight testing in designated function areas."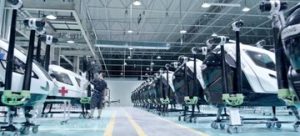 Watch Videos
https://www.youtube.com/watch?v=6uktNthAPKE
https://www.reddit.com/r/ehangstock/comments/oqsz99/a_quick_view_of_yunfu_factory_plant/