By Chris Stonor
Late last week was a HUGE moment for Archer Aviation. Pushing aside the underlying concerns of the potential impending Wisk lawsuits, the company's co-founders, Brett Adcock and Adam Goldstein, proudly showed off their Maker craft to an enthusiastic audience, to say to the world it "actually physically exists".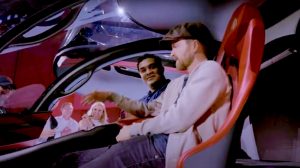 At the event in Los Angeles complete with dramatic lighting, soaring visuals, and even a pair of drummers, the company showed off its 12-rotor aircraft.
While you watch the co-founders get inside the craft and sit on the seats, then get out again the rest ie. the flying part remains a CGI experience, but hey, at least Part 1 has been achieved made more spectacular with live music playing and, no doubt, plenty of celebrational booze flowing afterwards.
Part 2 and the most important step is actually and successfully flying the craft in the physical sky rather than to a CGI backdrop.
For full "spectacular" video event (29.41):