By Chris Stonor
Once in a while a really fun and unique video appears on YouTube and last Friday one was uploaded which ticks all the boxes.
Background
As part of the 60th anniversary celebrations of the classic French Renault 4, the car brand decided to team up with motion design hub, TheArsenale, to create a futuristic eVTOL reinterpretation of this iconic model (see video).
The new version called AIR4, is the first flying French car to be constructed. This is neither "a concept nor a joke", say the makers, as it is a real-life eVTOL vehicle that can be flown.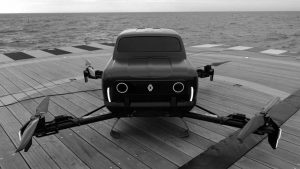 The AIR4 is made of carbon fibre and features four propellor arms each with two rotars. According to Renault, the vehicle is able to reach a cruising speed of around 93km/h, at heights up to 700 metres, all powered by 22,000 mAh lithium polymer batteries.
The AIR4 has already taken to the sky in various trial flights and beginning in 2022, the eVTOL will start demonstrations all over the world, including in Miami, New York and Macau.
Patrice Meigna, CEO and Founder at TheArsenale, said, "After 25 years of forward-looking research, we believe the icons of car culture are eternal, whether on earth or in the air. For 60 years, Renault 4 has been driven by ordinary people who make it extraordinary."
A spokesperson from Renault added, "AIR4 is a symbol of independence and freedom, born out of the realisation that traffic is compounding, lives are grinding to a halt, and the world above us is unhampered."
Watch Video:
https://www.youtube.com/watch?v=QPj2ykt1y-o
Patrice Meigna
This video triggers a whole heap of questions. An obvious one: Could a range of "Classic eVTOL Vehicles" be constructed? For example, a 1960s E-type Jaguar, 1957 Mercedes 300SL Gullwing, 1966 Shelby 427 Cobra, 1964 Porsche 911, 1965 Aston Martin DB5… the list is endless, all re-created to become a functioning eVTOL as per the Renault 4. Certainly, possible, but whether realistic, is another matter.
For more information