By Chris Stonor
Airspeeder understand publicity and while the company lies on the fringes of the UAM industry, the sheer thrill and excitement of its "flying car racing concept" always offers interest for the public.
While, controversy is never too far away with thrills and spills being part of the racing ethos, Airspeeder has managed to dodge the red-tape bullets to now and last week released a video with the expected musical accoutrement showing two racing craft flying at speeds of 100 mph over South Australian terrain.
https://www.driving.co.uk/news/goodwood-will-carefully-consider-future-flying-car-demonstrations-airspeeder-crash/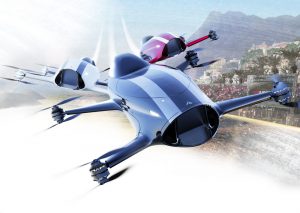 This was Airspeeder's first-ever EXA Series pre-season test race,  known as the EXA Drag Race.  The publicity trumpets, "Two remotely-flown Alauda Aeronautics Mk3 Speeders are pitched in a battle of pure speed down a 300m drag strip. Team Alpha and Team Bravo – composed of Alauda engineers and official remote test pilots – duel for the honour of victory for the first time in South Australia."
The video is released by Alauda Aeronautics via its Airspeeder racing company. The vehicles featured in the video are Alauda's Mk. 3 speeders, which can travel at speeds of up to 155 miles per hour using a 500 Kw battery to power their propellers.
The footage shows how they take off vertically to a height of around 50 ft above a 300m purpose-built drag strip that had been assembled in the Flinders Ranges mountain region of South Australia. The remote-controlled multi-copters are being operated by two teams, named Alpha and Bravo, who are aiming to get theirs to the end of the drag strip before the other.
A series of races named EXA, are expected to begin within six months. They will feature Mk. 3 speeders being controlled by competitors on the ground. It is too early and dangerous for people to be sitting inside the cockpit for now, at least.
Alauda says the cockpit is to be fitted with a robot that mimics the control inputs of the human pilot, which will help the company learn how human movement could affect flight in crewed races of the future.
Footnote
Founded by Brit, Matt Pearson, in 2018, Airspeeder's website describes him as a man "possessed of a singular vision to hasten the arrival of the electric flying cars we have been promised in contemporary culture for generations."
These flying racing cars are constructed by Australian, Sydney-based, Alauda Aeronautics under the motto, "Race on Sunday, fly on Monday."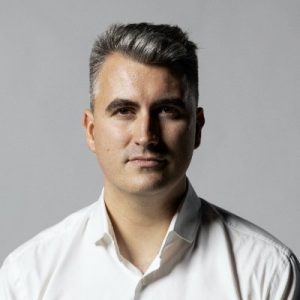 Matt Pearson
Watch Video
https://www.youtube.com/watch?v=VgBegdGyUis
For more information
(News Source: https://www.newsweek.com/)