By Chris Stonor
The growing presence of the UAM industry was highlighted yesterday when Volocopter took pride of place in the opening ceremony of the Singapore Airshow, the largest event of its kind in Asia.
Previous UAMN Article:
https://www.urbanairmobilitynews.com/commentary/singapore-four-day-airshow-begins-thursday/
While the trade show does not officially open until today (Thursday), the Deputy Prime Minister and Coordinating Minister for Economic Policies, Heng Swee Keat, gave the attendees a robust speech that included the country's determination to find air travel solutions surrounding the Covid pandemic. He said, "Singapore is committed to do our part to resume global air travel. We have progressively implemented quarantine free travel through Vaccinated Travel Lanes, or VTLs, with more than 20 countries."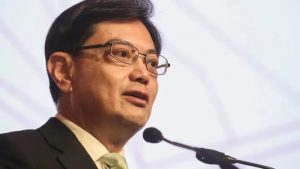 Heng Swee Keat
Towards the end of his speech Swee Keat focused on the eVTOL industry where he highlighted Volocopter and the company's growing association with Singapore.
He remarked, "Volocopter first captured the imagination of many Singaporeans when it flew its prototype eVTOL aircraft over Marina Bay in 2019, just a few hundred metres from where we sit today… To give a boost to this nascent industry, we are exploring the feasibility of the first piloted eVTOL trial in Singapore, possibly along the Greater Southern Waterfront."
Watch Video:
https://twitter.com/volocopter/status/1493208568459366401
Also, Read:
https://www.urbanairmobilitynews.com/government-investment/singapore-to-set-up-advanced-air-mobility-hub-with-skyports-and-volocopter/