By Chris Stonor
That specialist EHang YouTube channel is back with its irritatingly clipped robotic voice, first mentioned last Friday in a UAMN article.
https://www.urbanairmobilitynews.com/air-taxis/quick-friday-evtol-round-up/
But this is a well-conceived story about EHang's more recent craft "The Flyshark 200". For a majority of people who follow EHang from a distance, perhaps, do not realise the extent of the company's varied products.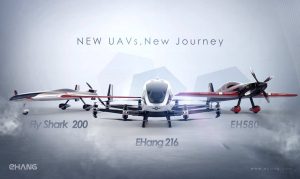 Recent publicity, especially, has been all about the AAV 216 Air Taxi, but there is so much more in the company's locker apart from the VT30 including its rapidly expanding drone lightshow business, the EH580 and a range of smaller drones used for medical deliveries, surveillance and inspections.
While the presentation is in Chinese, the channel has kindly translated the language to English. Please, sit back and enjoy.
Watch video: