By Chris Stonor
U.S-based Urban eVTOL, has recently "shared insights" about its new "flying car" being developed. Dubbed the LEO Coupe, the vehicle is the result of a partnership between Carlos Salaff, an automotive designer, and Pete Bitar, an engineer specialising in vertical propulsion systems.
The LEO Coupe, which currently only exists on paper and computer graphics, is an all-electric jet turbine-propelled eVTOL that looks more like a luxurious hypercar. It is a three-seat lift-and-cruise design running 16 of Bitar's electric ducted fans for vertical lift and several more at the rear for horizontal thrust.
The batteries are placed in front and the back for balance, and together they provide a power of 66 kWh and a flight time of an hour and 15 minutes, plus five minutes worth of power to cover the vertical take-off and landing. With the forward speed of 250 mph, the range is estimated at nearly 300 miles on a single charge.
The cockpit places the pilot in a central position in a seat suspended from the roof (see pics). The company promises to make the cabin floor transparent both for enjoying "a bird's eye view" and for precise landing control in small areas.
The design of the LEO Coupe offers a smaller footprint, equivalent to that of a car. Its compact size of 10′ x 20′ enables it to be privately owned as well as used as a commercial air taxi. Its strength is an ability to land and take-off in very small areas, far smaller than most eVTOLs. In fact, the Leo Coupe is so compact that it can fit in most 2-car garages.
The company is designing "a special inflatable cat's paw solution" that smooths the landing and keeps the craft in a horizontal position even on an inclined surface. Space-type safety airbags for descent vehicles are also being developed to mitigate impacts from very fast landings.
In the future, the company aims to make the vehicle fully autonomous, but until that becomes a reality, a certified pilot is necessary given the rapid speeds available.
According to Urban eVTOL, the Leo Coupe compact design makes it ideal for fire rescues, medevac, coast guard, tourism, exploration, where the craft can be deployed in almost any terrain without developed road infrastructure.
Pete Bitar                                           Carlos Salaff
As with so many new flying car start-ups, it is very early days. The company is planning to get an initial "flying frame" prototype built and into testing next year. Finding the necessary investment won't be easy given the highly competitive market. And then, of course, there is that little problem of certification.
Urban eVTOL says it wants to be financially competitive and is aiming for a sales price of USD290,000 per craft.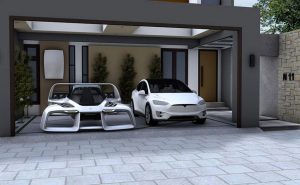 For more information
(News Source: https://www.inceptivemind.com)