By Chris Stonor
UKs capital, London, is to be privy to the unveiling of Asia's "first hybrid flying car" at the world's largest Helitech Exhibition on October 5th, reports prnewswire.com. The secrecy behind this unveiling is so great that the only photos presently available are blackened.
The company says, its "hybrid powered flying cars are designed for two people and can touch a cruise speed range of 100-120 km/hour" as well as claiming they have "a luxurious feel and an aerodynamic design that will positively change the future of the transport industry." The hyperbole continues, "The main focus is to harness user excitement with the intention of bringing the future closer to everyone and promoting sustainable development in the Air transport sector." One wonders when it is unveiled, if the Vinata is a second rate EHang 216.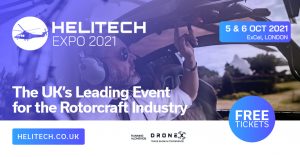 The development has been partly due to the angel investor, Mohan Paroha, founder of the Paroha company. The press release says he "shares his dream of flying cars and has therefore joined as co-Founder to support the project by Vinata Aeromobility." The company then says the craft will be "set for the global race by 2023".
Yohg CAS Iyer, founder and CEO of Vinata, said, "Urban Air Mobility has been categorised into two, that is, flying passenger cars and cargo. Our passenger car is a 2 seater flying car prototype, (but we are) also unveiling and developing a full autonomous 200Kg Payload Capacity Hybrid Air Cargo UAM which will greatly boost revenue earnings in the cargo industry."
The hybrid powered car weighs 1100kg and can handle a maximum take-off weight of 1300kg. The rotor configuration of the flying car is the co-axial quad-rotor. The company confusingly explains that "since it has an electric battery, this aircraft type is a made in India hybrid electric VTOL.
The company then points out the craft uses a more sustainable bio fuel that has "a distributed electric propulsion which provides safety for the passengers through redundancy" with "multiple motors and propellers." The craft comes with "an ejection parachute and airbags in the cockpit."
Roll on with the unveiling.
Visual presentation
https://www.youtube.com/watch?v=lH5RHMMtr6o&feature=emb_imp_woyt
For more information
https://www.helitech.co.uk/index.asp
(News Source: https://www.prnewswire.com)