By Chris Stonor
A prototype of XPeng's 'X2' much vaunted eVTOL, "quietly slipped into the Netherlands" last week without fuss or fanfare, reports carnewschina.com. The aircraft arrived at an undisclosed new Xpeng storefront.
The Chinese name is Luhanzhe X2 and is translated into English as Voyager X2 or Traveller X2. The eVTOL will make its official debut shortly via a trial flight.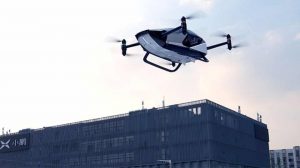 This X2 is the fifth generation. The company was founded in 2013 by Zhao Deli with financial backing from XPeng CEO, He Xiaopeng. The first generation vehicle debuted in 2016 and five years later the company has completed Series A financing of over USD500 million. This is a serious contender within China's growing eVTOL industry and is a major competitor for EHang.
The X2 is a two-seat aircraft. Its fuselage is made of carbon fibre making it light-weight with a mass of just 560 kg including batteries. It can carry two passengers and an additional 200 kg on board, with a top speed of 130 km/h and a range of 75 km on one electric charge. The craft has a maximum flight altitude of 1000 metres, although 400 metres is deemed the most comfortable and safest height. The X2 has autopilot with multiple sensors and is capable of self-landing, but if something goes wrong, this craft has a catapult parachute system.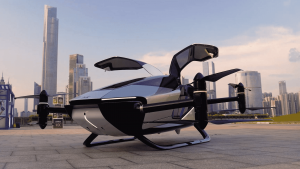 As for price, nothing is set yet, although in a recent interview Deli mentioned he could foresee prices for a two-seater eVTOL ranging between USD126,000 and USD236,000.
Watch Videos:
https://www.youtube.com/watch?v=IyBu0jHkBp8&t=9s
https://www.youtube.com/watch?v=RvbosyiVl7g
For more information
(News Source: https://carnewschina.com)