By Chris Stonor
XTI Aircraft Company has signed a Memorandum of Understanding (MoU) with Enterprise Estonia, Estonian Aviation Cluster (EAC) and the Estonian Aviation Academy (EAVA) to acknowledge Estonia as a Regional Mobility hub for the TriFan 600, the world's first civilian hybrid-electric long-range vertical takeoff and landing (VTOL) aircraft, reports a press release.
The organisations intend to collaborate with the manufacturer, XTI Aircraft Company, to establish a corporate presence in the country's capital,Tallinn, to directly serve the region. Robert LaBelle, CEO of XTI Aircraft Company, said, "We are excited to partner with Enterprise Estonia, the EAC, and the EAVA to serve the needs of the regional air mobility market."
He continued, "Given Estonia's track record of being at the forefront of technology innovation, we intend to foster this relationship to deliver maximum results for both parties that includes long range mobility utilising clean aviation technology, while expanding the country's aerospace centres of excellence."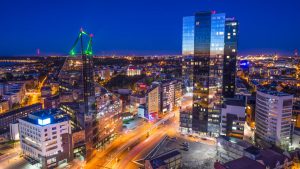 Tallinn –  a City of the Future
The country's unique location in Europe means it could revolutionise regional connectivity by connecting hundreds of active airports and 100 million people inside a circle of 1,000 km by using advanced air mobility solutions such as the TriFan 600.  Additionally, Estonia intends to become one of Europe's climate neutral aviation spots with all regional domestic flights becoming net carbon emission-free by 2030.
Sigrid Harjo, Member of Enterprise Estonia's Management Board, commented, "Estonia embraces innovative solutions and wants to be at the forefront of implementing them, so it's the perfect place for XTI Aircraft to use as a test-bed for its innovative planes as well as creating a regional hub in the future."
Kristo Reinsalu, General Manager of the EAC, added, "We are very excited to see how XTI and VTOL technology can bring Estonian connectivity to a whole new level.  Tallinn has enormous potential to become a regional air mobility hub by 2026."
Visual presentation
https://www.youtube.com/watch?v=06io6PR5JUI
For more information
https://www.xtiaircraft.com/#Air-mobility-revolutionized