By Chris Stonor
"Good vibrations" has become a key milestone in the development of NASA's new X-57 "Maxwell" electric aircraft, reports a press release. To ensure the aircraft is energy efficient and safe for use, NASA has carried out extensive multiple ground vibration tests, simulating the stresses it might experience during a real flight.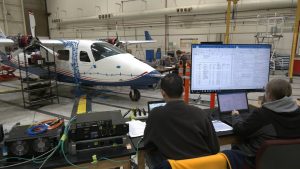 Data from the accelerometers around the two all-electric motors was collected on a LAN-XI data acquisition system and analyser platform, provided by test and measurement expert, Hottinger Brüel & Kjær (HBK).
HBK's BK Connect software trialled and analysed data from 191 runs, with 14 different test configurations. These ground vibration results give NASA a much better understanding of the modal characteristics of the X-57, currently in the Mod II configuration.
Work on the new aircraft continues, with the X-57 project team updating the model now they have the necessary data.
For more information