By Chris Stonor
Taz Drone Solutions partnered with Skyportz last week for a successful drone delivery flight of Freycinet Marine Farm oysters and Devil's Corner wine to Picnic Island, Freycinet, Tasmania, reports a company press release. This first short flight is described as a "first baby step in the development of what will be a heavy lifting drone delivery airline 150km out to Flinders Island."
Last month Taz, founded in 2017, worked with Woolnorth Wind Farms to help research a bird radar. This custom project in the Netherlands involved using a drone as a flying bird simulation whilst communicating with the development team over live video feed. Taz areas of expertise also include drone weed management, video productions and CASA certified training. Transporting cargo is a new development for the company.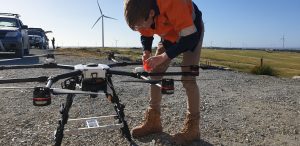 Skyportz are UAM infrastructure specialists. Not only are the company developing a network of landing sites in Australian cities, but is at the forefront of R&D for delivery drones in the country and working alongside Google's Wing project.
Last month the company signed a deal with Parking Australia, to develop the use of existing  car parking areas with the aim of transforming certain sections into UAM take-off and landing pads.
For more information 
https://www.tazdronesolutions.com